What is digital customer experience – Technologies, Examples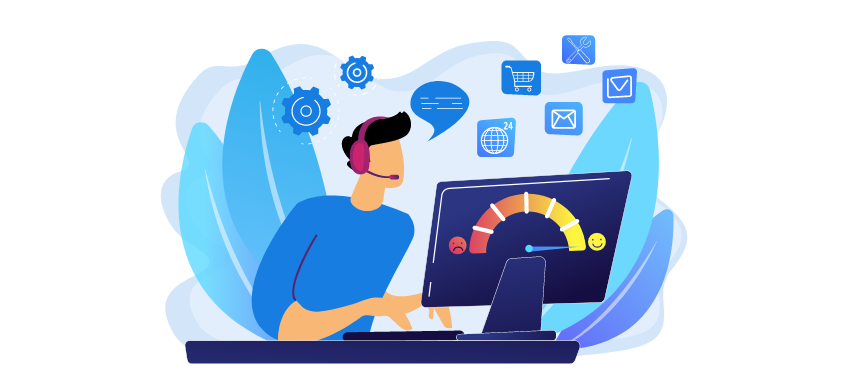 What is digital customer experience – Technologies, Examples
December 25, 2020
by Kesar Rana
A complete guide on Digital Customer Experience
About 56% of CEOs mentioned that digital improvements have led to revenue growth. When asked what type of digital improvement they did that led to an increase in revenue growth most of them answered they became a digital business and focused more on improving their digital customer experience. They learned how to interact with their customers irrespective of the channel and device. Connecting with their customers emotionally leads to an increase in revenue. All this happened because of Digital Cx. 
Digital customer experience is the combination of interactions done between consumers and the company that results in the impression that customers take away with. Understanding how customers can connect with you is called Digital customer experience management. If you want to lead the race, you have to find some way how your brand can emotionally connect with users on their devices. You have to find some way to let your customers provide feedback so you can respond to those issues. 
Some interesting stats were found in the McKinsey report about Digital Cx: 
Companies that have access to greater digital capabilities were able to convert sales 2.5 times more than companies at smaller levels did. It has also created more challenges for brands with the fast rise of digital channels. 

71% of consumers want a consistent experience throughout every channel. 

Only 29% said that they experience consistency. If they didn't get the experience they are looking for, then the customers will choose another brand. 

Because of this very reason, 33% of customers ended their relationship with the brands.

This also created an opportunity for everyone to take the customer experience to the next level. 
To do so, you have to create and follow a powerful strategy to measure and improve your digital customer experience. 
What is Digital Customer Experience?
Digital customer experience can be defined as, "The overall perception of your brand in the eyes of your customer " built upon the accumulated, consistent interactions they have with your brand specifically across digital platforms."
The digital platforms that you can prioritize to double down your digital customer experience are:
Social media channels (Facebook, Twitter, Instagram, etc.)

Live chat and email

Your website

Mobile apps

Digital kiosks and Internet-of-Things (IoT) hardware

Desktop and Software-as-a-Service software
Customers care about the personalized experiences and interactions they receive from you, throughout the entire customer journey. No matter what the mode of communication is. 
Digital Customer Experience Management
Digital Customer experience management isn't just only about managing social media channels and checking that they work well. It's much more than that. Digital cx management is also not only about that marketing and sales should work on. The focus of digital cx management is being aware of the digital touchpoints that you share with your customers throughout the customer journey and the platform. And continuously improving the experiences your users have in-between and within those touchpoints. Like, when a user downloads your app, uses your product, or opens an email from your brand–that is a digital interaction. Digital interactions have a huge impact on defining the overall customer experience. Your motive should be to continuously improve those interactions and bridge out the gap between your company and the user.
What's the difference between cx and digital cx?
| | |
| --- | --- |
| Customer Experience | Digital Customer Experience |
| Customer experience focuses on a wider range–from traditional customer experience channels to the latest digital platforms that users use to interact with companies.  | Digital customer experience only focuses on digital platforms including front-end services and back-office process optimization that benefits the customers. |
| Cx works on whole brand awareness. It is an overall impression which comprises the company's products and services in the course of the relationship with a user. | It refers to the communications made between a user and the company through the use of digital channels and the value that the customer takes away with. Digital customer experience focuses more on digital communication tool experiences. |
| Cx also calculates customer responses and emotional engagement with the brand – traditional or digital. | The communication part holds great importance. It tells that the brand has not only made communication with the user but also created a platform through which the customers can communicate with them. |
| Examples include placing orders for a product through the phone, booking a ride with Uber, or experiencing the purchased product. | Examples include websites, chatbots, mobile apps, loT smart devices, and wearables. AR and VR are also the newly emerging digital customer experience channels. |
The end goal of both Digital cx and cx is to meet customer expectations and because of that, they overlap quite often. In other words, Cx is the result of the digital experience. Parts of digital experience —  color, sound, navigation, clarity of text and images, ease of use — all drive a user's emotional response to the value given and the satisfaction and happiness of accomplishing it. A growing and satisfying customer experience has a strong, strategized digital experience behind it.
Examples of digital cx by industry
Digital customer experience isn't only related to customer-based businesses. The name can slightly be misleading but Digital Cx connects with every industry that sells products to customers. The use of Digital technology connects the dots to enable interaction.  Some of the common industry where Digital Cx is used are:
Banking Industry
Examples of Digital Customer experience in the banking industry include, Through the bank's mobile app, a user opens up a new savings account. He uses the bank's tool to save automatically and set a budget, providing an overview of the total budget, the amount saved, pending payments, and taking into account bills.
Every month, the user receives an email or text with an update on the status of his savings and a report on his spending habits. This makes the bank a helpful, friendly advisor. 
Government Sector
For example, a city employee regularly monitors vehicular and pedestrian traffic through Bluetooth-enabled sensors that are located along the streets. Through the sensors, she can share information with the respective department regarding any issues and concerns. 
If a broken bulb is needed to be replaced, the city employee can easily set up repairs through an online scheduler and track the worker's location and status. After the repair is finished, she can share the news on social media. This will result in a highly-efficient and tech-savvy agency.
Retail Industry
Let's take the example of a local bookstore that has an online community. In the community, the readers can share their reviews, take part in virtual events, join the online discussion, or save reviews of their favorite books. The customer can skim the recommended title based on his past order history over a cup of coffee. This gives the image of an efficient and simple bookstore to the buyer. 
How to improve Digital customer experience
Improving the Digital customer experience for your company is pretty straightforward. All you have to do is to gather data on each experience, find insights in the data, and take action based on those insights.
1) Gather data on digital customer experiences
There are many ways to collect data on customer experience. You can take the help of Social media management tools that can help you to monitor social media channels and respond to brand mentions. Customer analytics track and give reports on how customers use your brand. 
Customer experience surveys are the best way to gather quantitative data and gather digital direct customer feedback. Creating your own cx experience or using the customer experience survey software, you would be able to send it after any digital customer interaction which can be delivered to the users via various digital channels. 
2) Uncover digital customer experience insights
After sending out the surveys and gathering data, it's time to study the collected data and find insights to improve those experiences. With the help of the right process and tools, you would be able to find useful insights. 
Read customer feedback and solve issues quickly.

Sort out the feedback based on keywords like location and product mentioned, features, etc., and categorize into positive and negative opinion.

Note down the trend based on the keywords.

Compare feedback and CX scores across your segments and with other data you have collected through customer analytics.
This will help you to add context to your CX score data and customer feedback for your various digital customer touchpoints. Based on context, you can prioritize what needs to be improved first and what direction to take.
3) Take action to improve digital customer experiences
You have collected data, gathered insights, all you have to do is to work on improving your digital customer experience. 
After resolving the issues, you would be able to focus on other aspects of digital cx.
Following up is a great way to let your customers know how you will process further. 

Ask happy customers for a review.

Learn unhappy customers. This gives an opportunity to solve their issues, connect with them, and improve your brand experience.