Eight core principles of customer service in 2023 – Updated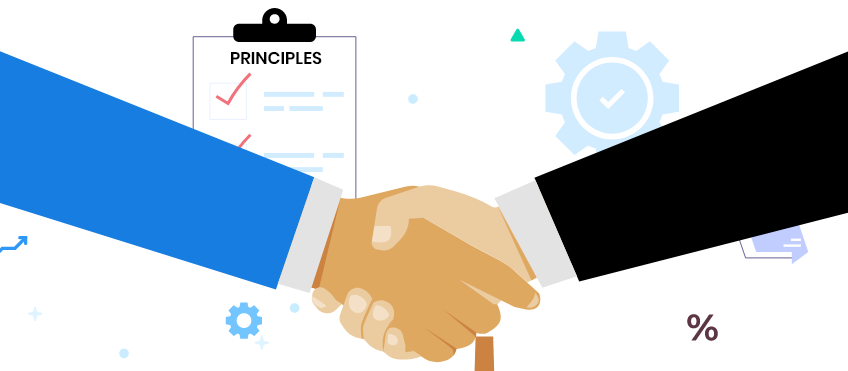 Eight core principles of customer service in 2023 – Updated
January 18, 2021
by Manoj Palanikumar
The success of any business is governed by its underlying principles. However remarkable the product/service you offer may be, what matters is how you make your customers feel.
For example, consider that you want to learn Japanese. You could start by downloading an app that teaches you the Japanese letters and keep at it daily until you get better. Well, that's what I did. Did that help me? Sure. But how could I have done it better?
Let's say you enroll yourself in a professional Japanese language course where a mentor/tutor guides you by teaching you the core principles of learning a language. Before starting with the alphabet, you'd need to know the types of scripts, how many letters of the alphabet are there, and where you should start learning.
Understanding where to start is essential to achieve continuous improvement, and having in place a set of principles will help you achieve that. When it comes to customer service, this is no different. You could start with the definition of customer service and interact with customers based on that, or you could build principles and abide by them to provide your customers with that 'wow' moment.
Here is a set of 8 principles of customer service for your business to abide by:
Be accessible
How easy is it for your customers to reach you?
This is the first question your customer service team should ask themselves. If your customer wants to reach you, can they do it through a channel of their choice?
Some of your customers might prefer to call you, while others may choose live chat, and a third group may prefer to email you. This does not mean that you must go out of your way to have a presence across all channels.
CEB Global showed that customers value fast resolution over their choice of a communication channel.
The best way to be accessible is to survey your customers and find out which is their preferred way of contacting you. This is where omnichannel support could come in handy; invest in a solution that will help you provide your customers with a holistic experience.
Be prompt
Respond to a customer, even if you can't provide a solution immediately. It helps a customer feel valued and provides acknowledgment that someone is available to look into their problem. Promptness of response has the highest impact on both customer satisfaction and frustration.
Can you ever think of a situation where you've switched from one telecom service provider to another due to a lack of acknowledgment? If yes, then you have your answer there.
The average American spends 13 hours per year and 43 days per lifetime on hold for customer service resolutions.
Customers hate to wait, and they hate it even more when you put them on hold. So if you want to improve your customer service, providing a prompt response is the right place to start.
Response times are usually measured using metrics like:
First response time

Average response time

First contact resolution rate
Be clear
While response speed is important, you also need to be clear in what you communicate. Clarity is about how processable your communication is.
When sending out a first response email, you have to ensure that your sentences are not wordy. Be as crisp as possible, and you can explain the issue at a later stage when you resolve it. Here are a few tips to keep in mind to communicate clearly:
Conciseness
Talking or typing in a concise manner isn't easy. The less mental effort it takes to process a sentence, the better the customers' understanding will be. The problem with detailed responses is that people tend to tune out after a specific limit, and you may have to repeat yourself to make it understandable. This ultimately leads to wasted time and effort.
Structure
If you're sending out a response email, structure it in a way so that it's easy to process. Address the what, the why, and the how-to. This makes it more consumable.
Analogy
When it comes to new concepts, nothing works better than an analogy. When you explain any complex or new use cases, structure it so that even a layperson can understand. While this may increase the length, it will help you ensure that customers get what you're trying to convey.
Be transparent
You've ordered your food, and you're waiting for it to arrive. The seconds are ticking by, and there's no sign of food coming your way.
"What the hell is taking so long?" is the worst feeling ever, especially when it comes to customer service.
Keep your customers in the know; transparency in customer service is as important as speed. No one likes to wait, and being transparent may help you take some of that bitterness off the waiting period.
Tell your customers what is taking so long, why it's taking so long, and how much longer it will take for them to get a resolution. For example, when you receive a ticket, instead of just sending out an acknowledgment mail, keep sending periodic messages to indicate what you're working on, how long you've been on it, and what you're doing to get it resolved. This will reassure customers that you're on their issue and help take the bitterness and frustration out of that waiting period.
Prioritize quality over quantity
Speed and accuracy don't go well together most of the time.
While speed is important to acknowledge your customers, accuracy is what will determine the quality of service. Your focus should be on how well you could resolve your customers' issues, rather than on how many customer issues you were able to resolve.
While quantity is important for efficiency, it should not come at the cost of quality.
Your reps should not hurry customers off the call so that they can resolve more issues. No one likes to be dismissed, and the quality of service matters when it comes to overall customer satisfaction. Train your agents to serve your customers better even when there are multiple other issues to resolve and focus on quality rather than quantity.
Provide the human touch
No one likes to keep pressing one button after another for eternity. Keep your IVR simple so that customers can talk to an agent if they need to. While enabling your customers to serve themselves is crucial, it should not come at the cost of human interaction.
75% of customers feel it takes too long to reach a live agent – Harris Interactive
Encourage agents to show their personality in the emails they send and fill up any quiet time with small talk to help customers feel that they are getting a personalized experience. Add elements that bring a friendly face to your support teams; after all, however intelligent AI becomes, customers always prefer a human touch.
Learn the ins and outs of your product/service
If your reps have enough knowledge about your product's working, then there won't be many issues that they can't deal with. The more your agents know about your product/service, the better they'll be at providing service for it. It is crucial that customer service reps learn and understand every nook and corner of your product so that they're equipped enough to address customer issues.
This will help increase speed, and your reps can answer questions with accuracy, providing an overall excellent customer experience.
Make training a key part of your customer support operations. Enable them to try out each feature, enable any integrations/add-ons so that they can address any query that comes their way.
Customers love people that know what they're talking about, and providing product training is one great way to help your reps build their confidence.
Be ready to go the extra mile
Always try to go above and beyond; don't just stop with providing a solution, but go one step ahead and offer them something that would turn a support ticket into a support experience.
A small gesture that shows that you care for the customers' needs helps cement your brand image in your customers' minds. Seeing and serving beyond what is just needed helps elevate customer experience to a whole new level.
Learn to give customer experiences rather than solutions. Offer them something that goes beyond the expected – something that gives them the 'wow' factor. Personalization is one way you could achieve this; it lifts customer support into the more holistic customer experience space.
Why do you need customer service principles and practices?
Customer service is always about the customer, and it's never about your company. The core principle that you need to stress is to be customer-centric. Principles help give a name and structure to the service you provide, and sticking to them will help you elevate customer experiences to a whole new level.