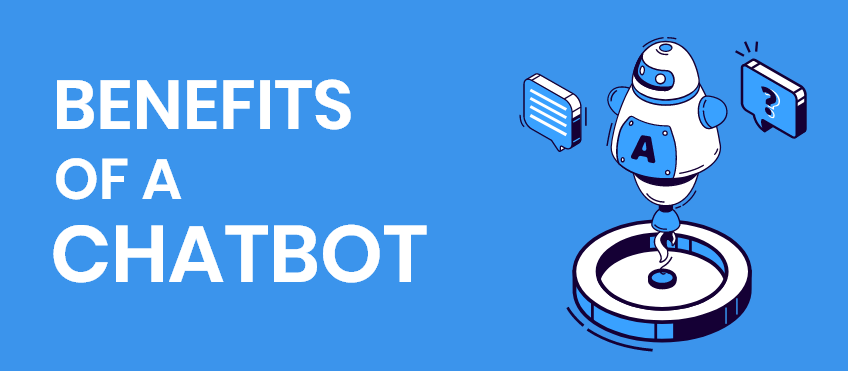 Benefits of Chatbots
February 5, 2021
by Priyanka Bhaskar
Conversational AI (Artificial Intelligence) has been revolutionizing the world of communication between a business and a customer. One of the amazing creations of Conversational AI is chatbots. To-date, chatbots are found performing every task such as customer engagement, lead generation, enhancement of sales, and much more.
Fact Check: According to research, the interest in chatbots almost grew by 160% in 2018. (Gartner)
With such a whopping interest growth, there's an estimate of companies being able to save 2.5 billion customer service hours using chatbots by the end of 2023.
Before we begin, let's take a look at what these chatbots are and how they work!
A Chatbot is a software-programmed, conversational agent that can understand human text/speech inputs and respond with a meaningful answer, in the most natural (read human) way possible.
When combined with Natural Language Processing or NLP, these chatbots work wonders! Here's a complete guide to NLP bots.
Chatbots came into existence in the early 1960s but have gained fame in recent years. The first chatbot ever created was "˜ELIZA', which was capable of answering basic questions.
In the current scenario, chatbots can be found everywhere, from government portals to in-apps.
Let's see how chatbots are benefitting businesses in the following ways:
1) Omnipresence
With the amount of time that people spend on the internet surfing different things or entertaining themselves on social media platforms, there couldn't be any wise decision to target people without their realization on the same platforms they spend hours on!
According to studies, millennials spend around 7.5 hours online while Gen Z surfs for nearly 10 hours.
Also, according to acquire, 1.4 billion people use messaging apps and are willing to talk to chatbots.
In such cases, the omnipresence of chatbots can be used to reach out to the target audience via different messaging platforms like Facebook & WhatsApp Messenger, Kik Messenger, or in-app chatbots.
2) Lead Generation
The capability of a chatbot to converse like humans makes it spectacular. Whenever you greet someone in a personalized manner, they are more likely to respond to you in the quickest time possible. Also, the conversation flow carried by a chatbot is much precise and consumes less time. Another dynamic feature of chatbots is the qualification of leads. ChatGen lets you set particular parameters adhering to which a lead can be categorized as good, bad, hot, or cold lead. This prevents you from wasting your time on unqualified and unsure leads.
3) 24*7 Availability
Imagine a customer is surfing through your website at midnight and faces some difficulties while looking out for some product/service/information. In such a case, he/she might seek help to solve the difficulty. Being humans, it is practically impossible to stay awake round the clock. Hence, this 24*7 availability can help People nowadays seek instant solutions and quick replies.
4) Brand Personalization
With the increasing crowd day by day, it has become essential to establish and promote your brand. Imagine you visit a store and see 5 cups out of which 4 are similar but the 5th one catches your eye due to its distinctive color. You would probably go for the 5th. This is how brand personalization works. The chatbot is the first point of contact with your customer and it needs to represent your brand. Be it the logo, or the color palette, the personalization always works one step ahead.
5) Customer Engagement
Gone are the days when people would talk or wait for the sales representatives to connect back with them and get their queries solved. The reduced attention span has made it crucial to grab and keep customer attention in your product/service in the shortest time possible. With chatbots, certain customer expectations can be met.
Increased Open Rate:

Since chatbots greet with personalized messages, the open rate increases thereby leading to conversations paving a way towards engagement.
Increased Engagement

: The chatbots are good at engaging customers with their quirky, personalized, and fun communications. This leads to an increased engagement ultimately leading to conversions and sales.
According to Matthew Barby, On the low end, low engagement bots see 35-40% response rates. On the higher end of the spectrum, better bot experiences can result in 80-90% response rates.
6) Programmability
The best part of chatbots is that you don't need to learn rocket science or any coding languages to train your bots. A few data sets, frequently asked questions, and a little amount of effort is enough to train your bot.
7) Cost savings
According to sources, overall, a chatbot can cut down up to 3x the salaries you have been paying to people like customer service reps, salespeople, etc.
The primary reason behind choosing chatbots over humans is their precision. When you "˜employ' a fully functional chatbot, it cuts down the need for any cross-platform for hiring people. In simpler terms, the human acquisition cost is reduced or eliminated. Also, it can handle n number of client requests/services simultaneously without getting tired like human beings.
Many businesses are moving to digital platforms like Facebook, Microsoft who provide ready software solutions for the purpose.
Juniper Research believes that by 2022, chatbots will save businesses an aggregate of over $8 billion per year.
8) Customer Service
The customer is the King. If he/she is not satisfied with your services or your support team, you lose 10 other customers. Usually, it is tough to keep up with the customer queries round the clock via human agents. Chatbots have overcome this issue too. Your website is the home to your product/service and chatbots, the frontline representatives. The chatbots can handle all kinds of queries without crashing down.
According to Statista, 34% of retail customers would be comfortable speaking with customer service through AI chatbots instead of a live customer support representative.
9) Automate Repetitive Tasks
Repetitive tasks are more prone to human errors. This is where chatbots ease the risk, and boosts up productivity as well as saves a lot of time.