When we look at the growth of marketing and sales, we find out that the popular sales funnel or the process through which the potential prospects go through while making the important buying decisions is definitely an essential part of your sales development and progress. Although the fundamentals of the sales funnel still remain the same, quite a few of the strategies which marketers make use of in order to make possible the lead movement through the funnel have seen some difference.
Although you may encounter different definitions of sales funnel yet the phases and stages that are the most common ones are :
Attention

Interest

Decision

Action
"The core value of Chatgen.ai is to drive this inbound sales funnel journey with minimum response cycle duration".
1. Attention
This stage in the sales funnel is where customers find out about the company's product or service. The customers reach this stage via social media, emails, internet, TV ads, etc.
How can ChatGen help you at the attention stage?
A. Conversational Landing Pages
ChatGen can help you build customized and beautiful conversational landing pages using ChatGen's intuitive bot builder that you can use for your campaigns through different marketing channels like email, SMS, social media etc. You can also test and measure with various different flows and understand which botflow works for your lead generation. The same can be used to collect feedback and also incorporate these ratings to your NPS or any performance metrics internally or externally. For more information on "˜Testing your bot flows', please click here.
B. Embed your bot
You can also embed your conversational landing pages in your blog pages or also into your ads to reduce your drop rates drastically.
C.  Facebook Messenger bot
Facebook pages enjoy massive traffic and converting that traffic to leads and eventually to customers will mean a huge deal. ChatGen does this for you using the latest Messenger Integration. Using ChatGen's bot builder, you can get started with your messenger bot within no time. It eases the process of leads collection through Facebook messenger. Please click here for detailed messenger integration using ChatGen Platform.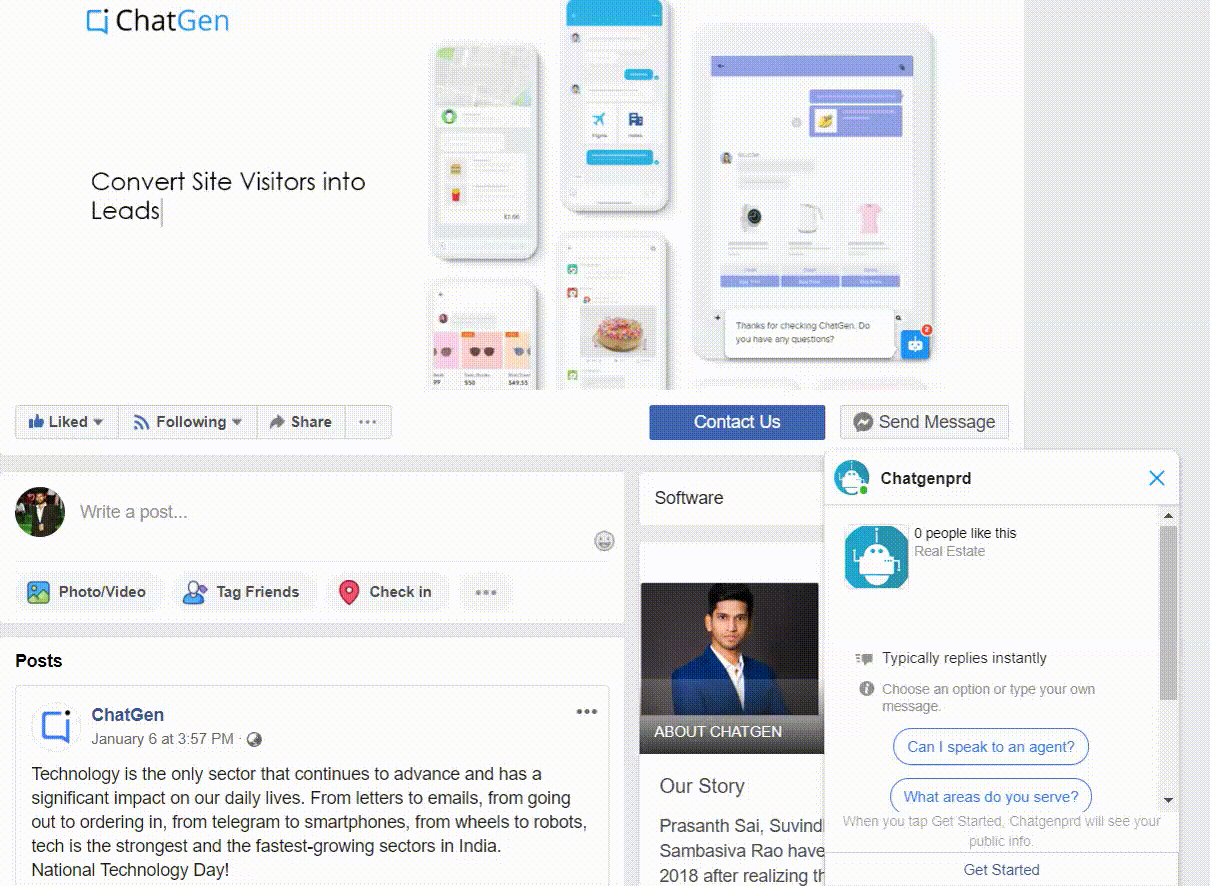 2. Interest
This is the second stage of the sales funnel in which the lead starts showing interest in the company's products and services offered. They would like to inquire more information regarding the services either on the website or through emails. Interest stage can decide whether the visitor will be your potential customer or not. Hence the conversion needs to be quick and effective. 
The core of ChatGen platform is to drive your site visitors from interest stage in your funnel to Decision stage. The following set of features will drastically improve the response cycle of this stage.
A. Personalized messages
Nothing makes a user feel happy more than a personalized approach and hence ChatGen stores the data of your leads and whenever he/she returns to your website, ChatGen's bot greets them with their name. For example, "˜Hi Tom, thanks for visiting us again, how can I help you?'. This way you can make sure that the user feels appreciated, gets engaged with the chat widget and you also get the desired output.
B. Custom bots with Intelligent Routing 
As website traffic keeps increasing, it becomes difficult to manage every visitor by a limited number of people. Custom bots' intelligent routing can help you sort this out. Since every visitor could have a set of generic queries and some unique queries. Initial bot can help with the generic queries from the site visitors 24/7 and can route to the desired agent from the desired department with intelligent routing based on his/her available hours. For example, the sales related questions will be routed to the person in the sales department and technical queries will be routed to another, this way ChatGen makes sure that the customer gets the solutions that he/she is looking for 24/7.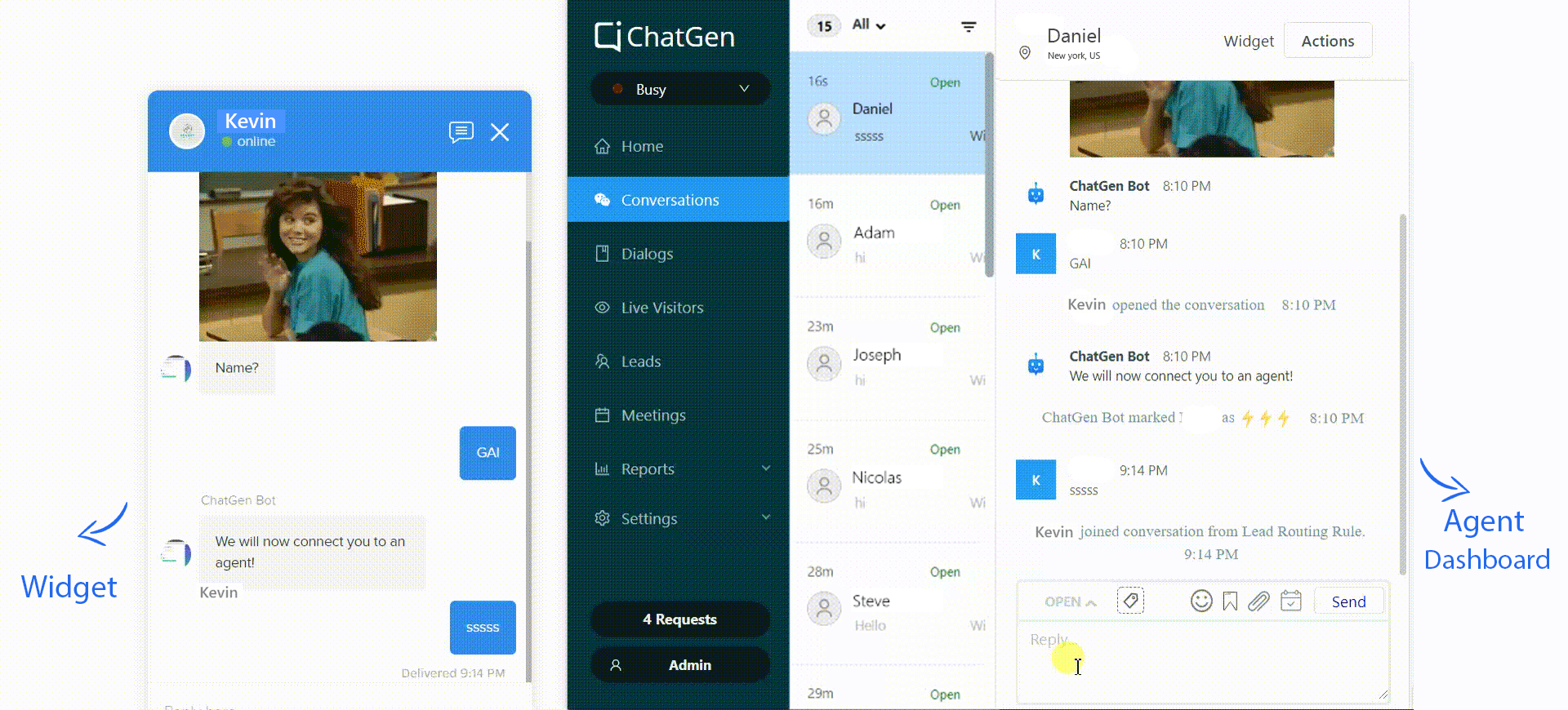 C. Booking Demos
If you're providing an online service or a SaaS product the visitors expect a demo of the services and with ChatGen you can completely automate that process and fill your agent's calendars with meets. Whenever a user wants to book a demo to understand your product better, he/she can just select a date and time from your agent's calendar. This can be done by integrating your agent's calendar with ChatGen and it will show the visitor all the available slots to choose from. This way the user gets to select the time convenient to them and once the meeting is fixed, a notification is sent to both the user and the agent reminding them about the meeting. The corresponding agent shall be notified with all the information about the user activity on mail as soon as the meet gets confirmed.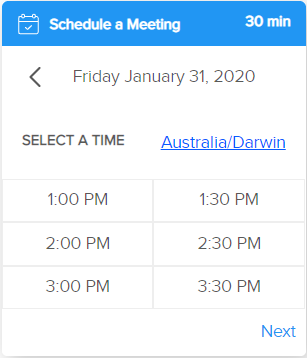 D. Integration of ChatGen with Email Marketing Services like Mailchimp and also CRMs
Email marketing has created a huge wave across the digital markets and if you are a user of such services like mailchimp to interact with your leads then you can also use the links of Landing pages to make sure that the user gets to interact with the mail. All you have to do is add the link to it and ChatGen's bot will take care of the rest.
Having popular CRMs are part of the businesses now and ChatGen allows you to integrate the data with them in a few clicks. Popular CRMs like Salesforce, Hubspot, Zoho, Freshsales, etc. can be integrated to ChatGen. Additionally if you have a custom or inbuilt CRM, they can be easily integrated as well through ChatGen APIs.  Now even if you don't have a CRM we've got you covered, all the details of your leads will be available on our dashboard which you can access anytime. ChatGen makes sure that all your lead details are secured and saved.
E. Click to Conversation and Context Based Flows
Since a web page has multiple types of information we can build multiple bot for such types of scenarios. Let's take an example to understand Click to Conversation. Consider a pricing page where there are options like connect to support, book a demo, etc. Here when a visitor clicks on connect to support a different bot will pop up and when they click on book a demo another flow would pop up, similarly more flows can be used for different scenarios. The same is valid for URLs as well. This makes sure that the user is interacting with the most appropriate flow for maximum results.
3. Decision
The third stage is the decision making phase in which the consumers make a decision of going ahead and making a purchase from that particular company. In order to help consumers take the decision many marketers understand the potential leads based on the information on activities done by the leads in their previous stages and recommend content accordingly to take the final decision.
ChatGen provides a lot of information about the user to understand and recommend the content accordingly.
A. Lead information
Lead captured through the chat widget will also capture a lot of other information about the user and all the user information can be accessed by the agents and admin. We divide the information into three segments.
1. User default info: We store the user default information like email, phone number, browser name, device type and OS name. We also collect the company details based on the email ID (using clearbit).
2. User custom attributes: We can store specific input given by the user during the conversation. For example, his/her company name, the kind of solution he/she is looking for and category, etc.
3. User Geo attributes: Based on the IP address, we store different location attributes of the user.
4. User UTM attributes: Different user UTM attributes are stored and are also updated accordingly.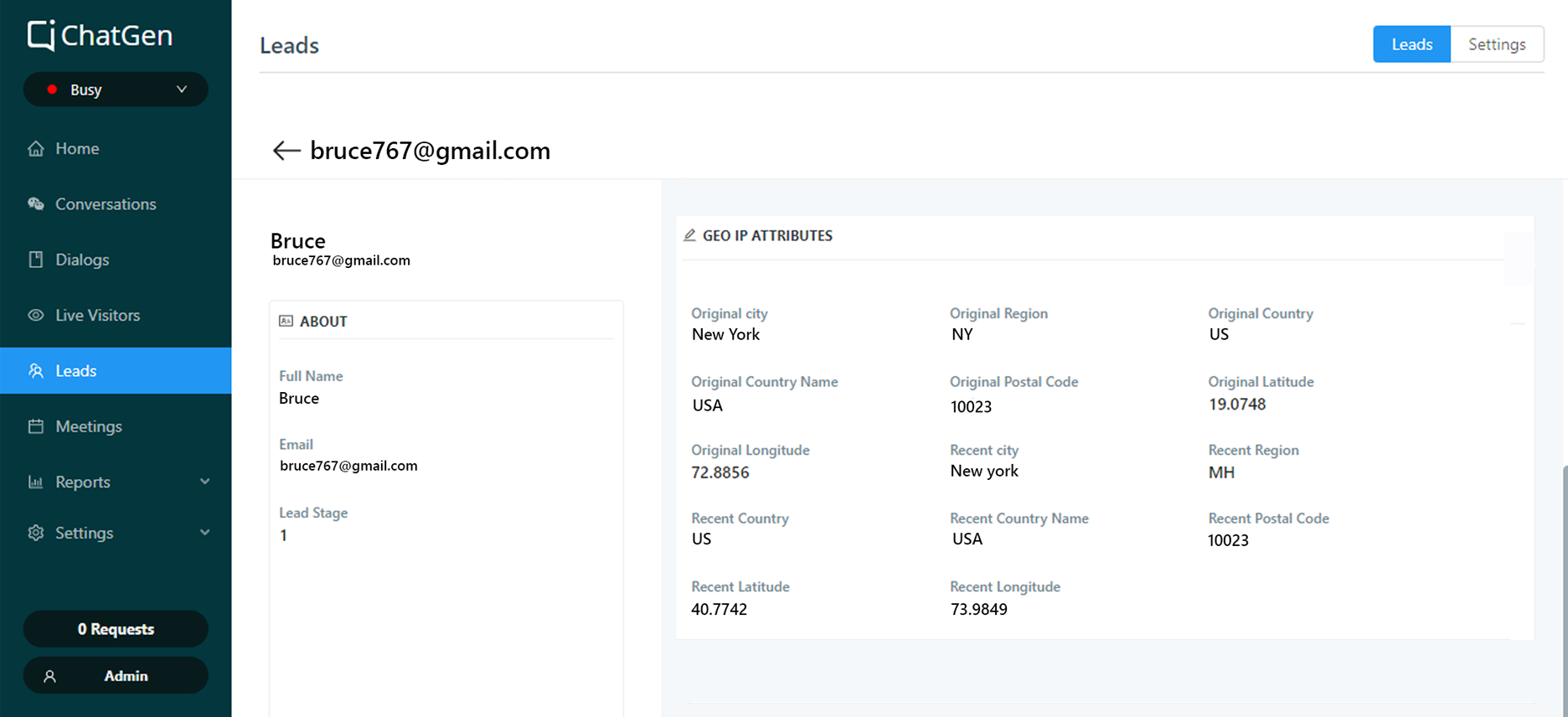 B. Lead journey and conversation links
1. The complete journey of the visitor shall be displayed with respect to the time of the event in a flow. Agents can get an overview by understanding this journey.
2. Share the lead conversation using links and email notifications. Agents can check their lead's conversation using the conversation link. Agents can also search and filter data using different filters to understand the conversations and leads better.
4. Action
Action is the final stage of the sales funnel in which the customer conducts an action which the company desires. This action is nothing but a customer making a purchase. During this stage a human salesperson steps in to make the purchase happen. But in cases where the purchase is a small one even the chatbot can let the customer purchase their desired product or service.
Make Use Of ChatGen & See Your Business Flourish
The goal of ChatGen is to help businesses organizations automate the sales process as much as possible and we take pride in being able to provide a successful solution. For more information regarding the pricing and features please check our website (ChatGen).