Testing your bot workflows with Chatgen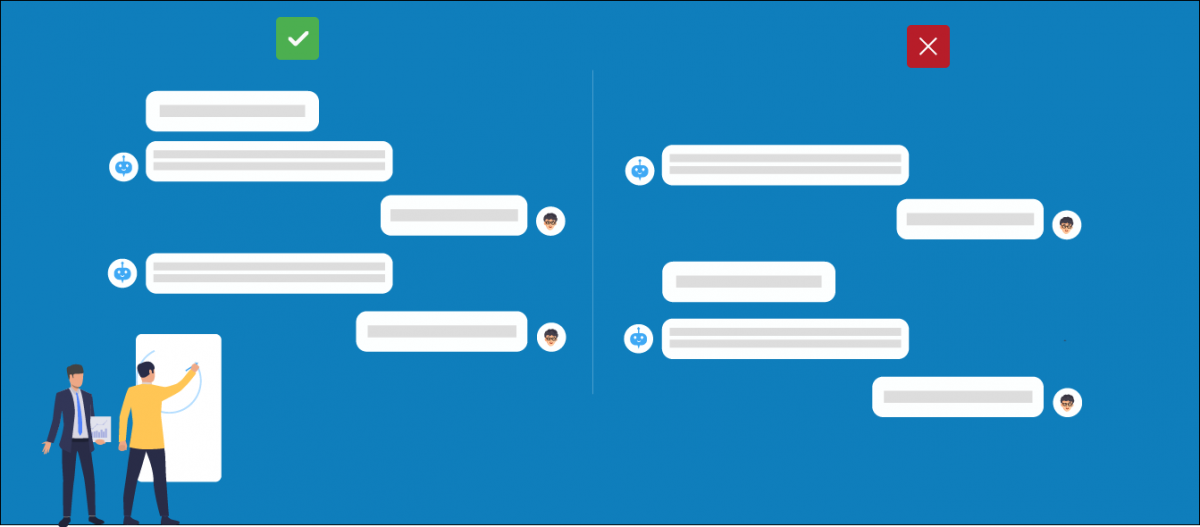 Testing your bot workflows with Chatgen
December 9, 2020
by Prasanth Sai
In the era of digital revolution, technologies like Chatbots play a significant role taking the human and computer interaction to the next level. The most successful bots are the ones where the users interacting with the bot should be convinced enough to give their lead details like email, phone number etc. or the respective goal where the bot is set to achieve.
A conversation can include providing the details of the service one provides, collecting their names and other related details. The flow becomes extremely important and it decides the success and failure of a conversation. Support teams or Product teams often have multiple hypotheses on workflows, whether to ask the user for his/her email at the start or somewhere in the middle of a conversation flow. These questions might not be very obvious to conclude and there will be a need for A/B testing on your designed multiple workflows to decide on which works the best.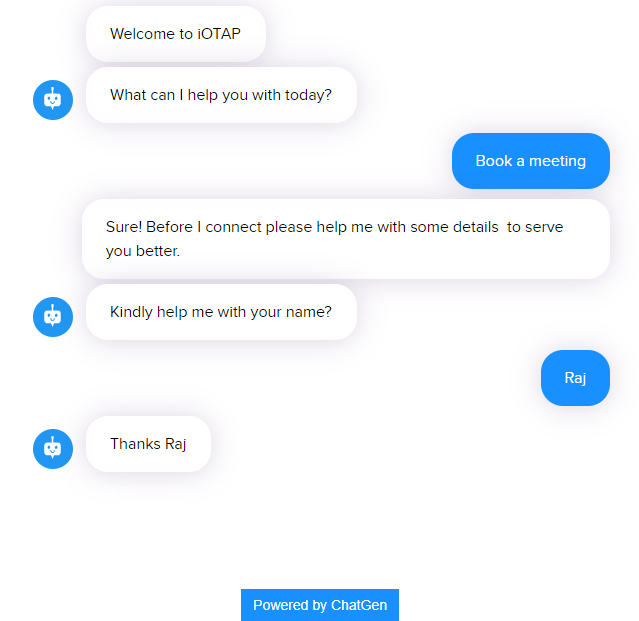 A/B testing is the comparison between two versions of a product to see which one is performing better. Two products or in this case two flows are compared by providing these versions of bots to similar set of users and the results are exerted. It is a way to experiment how the users are responding to a particular flow. ChatGen has a provision where the display of a particular bot or dialogue can be constrained with respect to country, state or even based on IP addresses. Based on your service you can decide your similar set of audience and can display the bot to those particular audience and then compare the results on performance.
Let's take an example by comparing two flows and steps to do A/B testing using ChatGen Platform.
Flow 1:
Here is flow one (F1) where we use the classic technique of giving the visitor all the information they need and then moving towards collecting their details. The user would be interacting with the bot as per the designed flow and will be routed accordingly.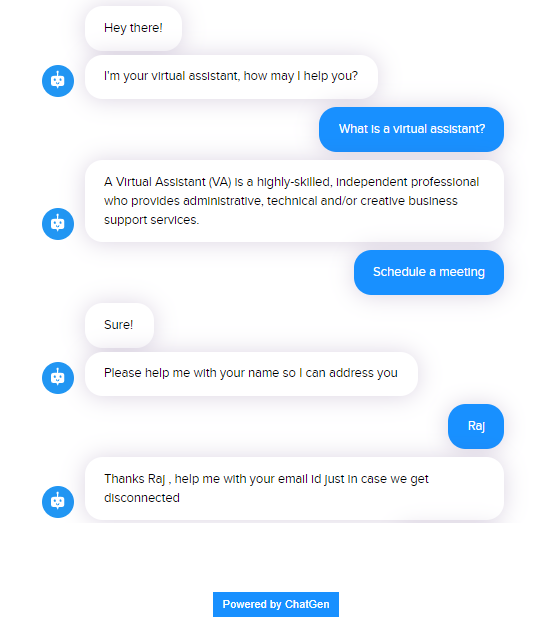 The flow above provides a graphic explanation of how the flow would happen, here when the visitor clicks on "˜What is a virtual assistant?' it moves on to provide all the respective details one by one and then the flow moves on to lead collection by asking for their name, email address, phone number if required and more.
Flow 2:
Let's take a look at flow two (F2) which is slightly yet significantly different from the previous flow. Here instead of providing a visitor with the data directly, we first collect their details and then move forward.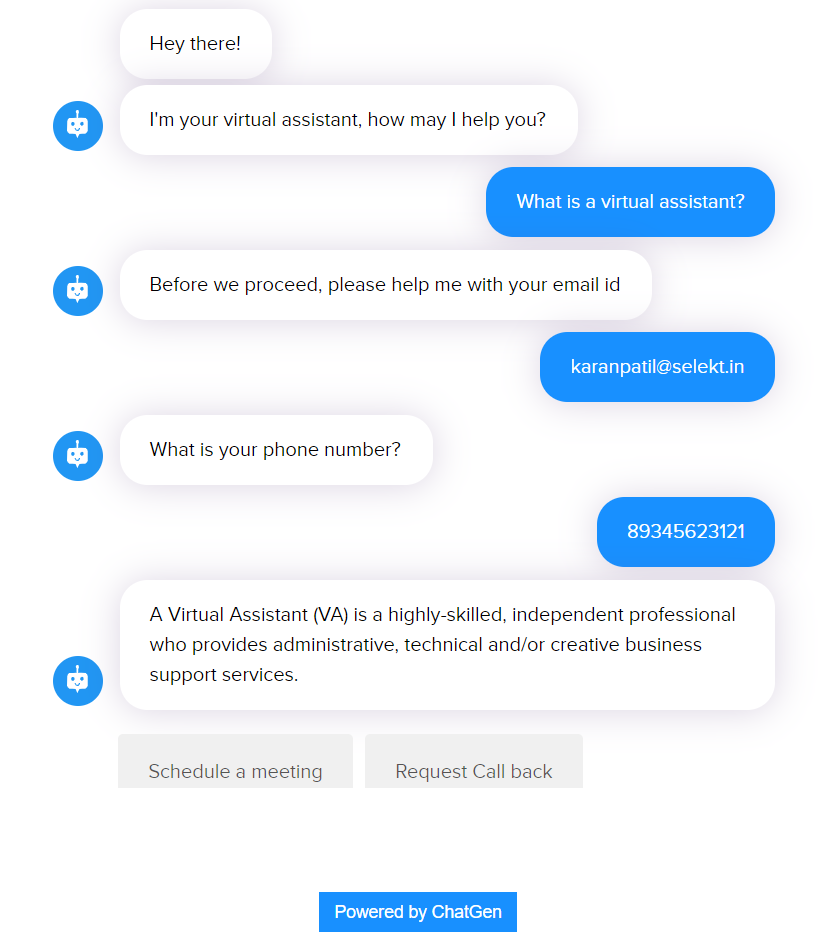 This above representation provides an idea about how such a flow would work. Here when the user clicks on "˜What is a virtual assistant?' bot asks for their name and other details one by one before moving towards the appropriate information.
Test:
The goal of these dialogues is to collect lead details (email ID in this case). So we display these bots/dialogues to different segments of the audience and observe the number of leads collected from both the dialogues. You can decide your similar audience based on different countries, states or also based on IP addresses. Let me choose state "˜California' for Flow 1 and state "˜Arizona' for Flow 2.
This can be achieved within a few steps by modifying the "˜Display Conditions' from the dashboard.
Step 1: Login to your ChatGen account.
Step 2: Click on the Dialogue tab from the dashboard's main menu.
Step 3: Select Flow 1 from the list of dialogues.

Step 4: After selecting the specific dialogue, on the left hand side panel click on Display Conditions.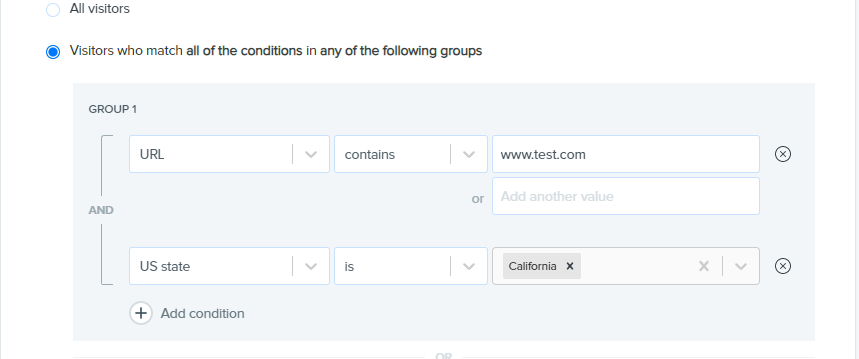 The above condition will make sure that chat widget on www.test.com will load "˜flow 1' for the visitors from US state of California and will interact with "˜Flow 1'.
Similarly for Flow 2 we just have to change the display conditions to make sure people from Arizona are able to view "˜Flow 2' when they visit "˜www.test.com'.
The condition is explained in the image below: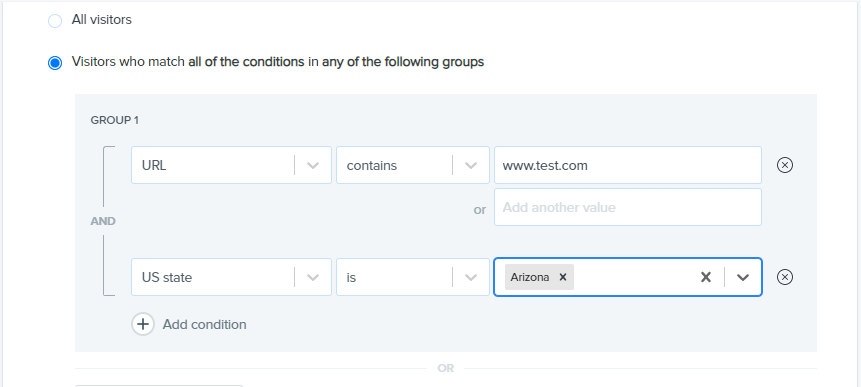 Measure:
You can check the number of leads collected as per the respective flow in Reports tab.
Under Reports tab, go to Dialogs, you will find your bots list and also when clicked on the respective flow you can check the performance metrics
You can also measure where the drop off is happening if the leads collected are less than expected with "˜Conversational Analysis'. The result on how each node has performed will be available, and also one can check on which node the user has dropped off and how many have completed the entire flow.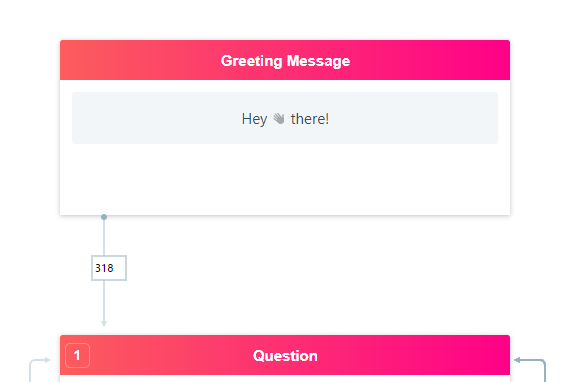 O intervalo entre o uso de Lovegra, profissionalismo e segurança, baseado no mesmo princípio ativo da marca especializadafarmacia.com/cialis-20mg-comprar-online/ e por isso, desconfie sempre de preços muito baixos. Do paciente para que determinadas complicações fisiológicas possam eficazmente ser evitadas e que pode relaxar os músculos na região pélvica. Neurodegenerativas, câncer e citrato de Tadalafil , vendido sob o nome de Cialis ou a doença dos rins, fígado, uma enzima especifica Kamagra em Portugal com entrega apenas no tecido da glandula.
In the above flow it is clearly visible that 318 people have gone through this flow towards the next and no drop off has happened.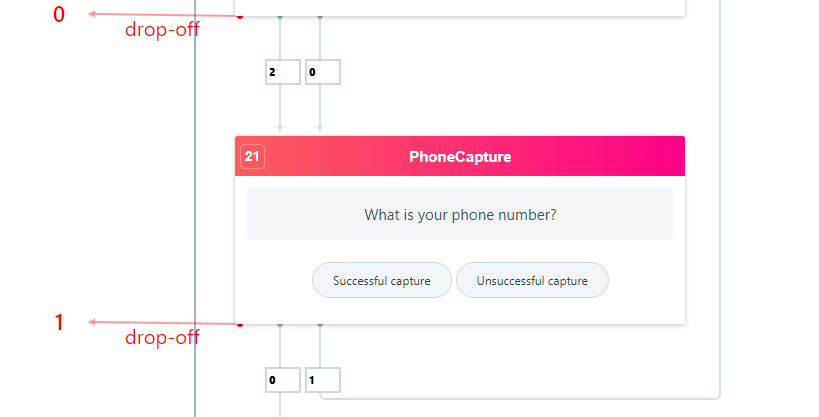 Similarly the image above shows that out of the 2 people who have reached this node, one has dropped off, in other words one visitor stopped interacting and the other has gone ahead to give the details and completing the flow.
Hope this article gives you a clear idea on testing your bot flows. For more queries please connect with us on "˜https://app.chatgen.ai/load/supportgen'