Top 7 chatbot conversation examples for Business in 2023 – Updated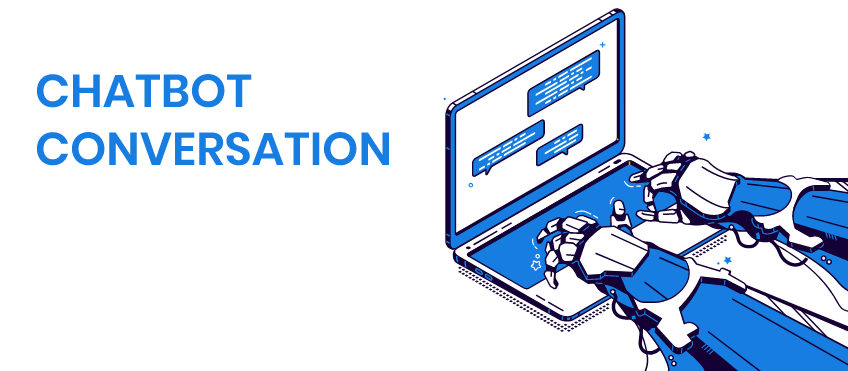 Top 7 chatbot conversation examples for Business in 2023 – Updated
February 5, 2021
by Kesar Rana
What is a chatbot?
A chatbot is a computer program that automates selected tasks by conversing with a user through a conversational interface.
The highly advanced chatbots are powered by AI, and they are constantly learning from user requests and are improving their knowledge base with each conversation.
Today, most of the chatbots in use follow a simple phone like simulation: A+B = C, based on if/then logic, or by offering choices through which users can make a choice.
7 chatbot conversation examples for business
1) Emirates Vacations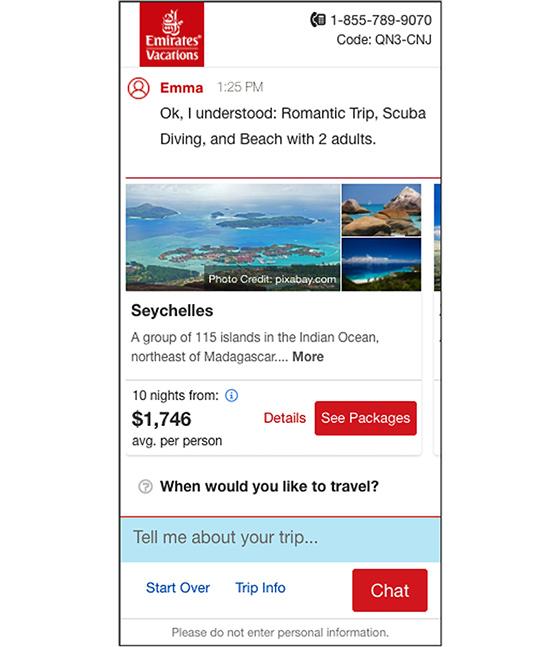 Photo from: LifeData.AI
Emirates Vacations created their conversation chat or within their display rates. They deployed the chatbot in 2018, and they target different bot sequences and visuals depending upon the page that is getting browsed. Since the deployment, the engagement rates rose to 87%. The average CTR rates remain at an all-time low of 0.35% for display rates.
What can we learn from Emirates Display Ad chatbot:
a) Be relevant to the user journey
Instead of using the same message throughout the customer journey, use a different message for your website, product pages, and Facebook business page.
b) Keep users goal in mind
The Emirates Vacations Chatbot is designed to achieve a particular goal, it's more than just an ad. Whenever your users browse your website or Facebook page they have a task in mind that they're looking to do, that's the time where your chatbot should come in action mode and help them complete their task as quickly as they can.
c) Flatter users with frictionless experiences
Provide your users with a mind-blowing user experience. Like, helping them sign up or book a particular product in the ad itself, without leaving the ad or page. It's the most convenient way for the users to choose your product again and again.
2) Hipmunk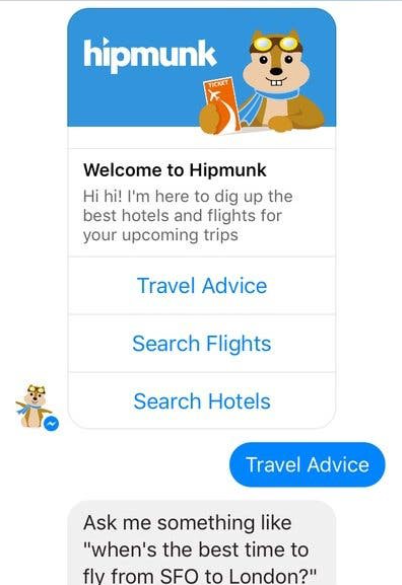 Photo credit: Hackernoon.com
Hipmunk was able to make a special place of their own in the travel niche. They used a location-based approach to book a flight, hotel, cars, and more straight from their website. They used a conversational and engaging way to book travel. Consider that an average person visits over 38 sites before booking
Few niches are more competitive and saturated than travel, but Hipmunk was able to cut through the noise with their location-based approach to booking flights, hotels, cars, and more. Considering the average person visits over 38 sites before booking, Hipmunk is an engaging and convenient way to book travel, Hipmunk is achieving new records in the field.
Here's what we can learn from Hipmunk Chatbot:
Hipmunk has crafted its sequence by the intricacies of how their users search.
a) Send deals or promotions based on user preferences
Sending details or promotions based on user preference is a simple, elegant, and powerful feature that helps the users extract information from multiple websites all in one place which is the messenger. It's a relief for those who use the "million tab search method" during their exploration.
b) Use conversational language to personalize experiences
The interaction between a chatbot and the users builds trust between them. As each conversation happens and feels like a human agent is talking with them, making it easy for users to connect and understand them. Making them feel like they are talking to their friend for an acquaintance.
c) Create content that is rich and useful
Due to Hipmunk's two significant features, proactive outreach and simplifying an exhaustive process for users, one can easily get there if they want to go without going through a million deals or sites. Usually, with 'HipTips' apps the user's wait time turns into exploring new deals.
3) Kia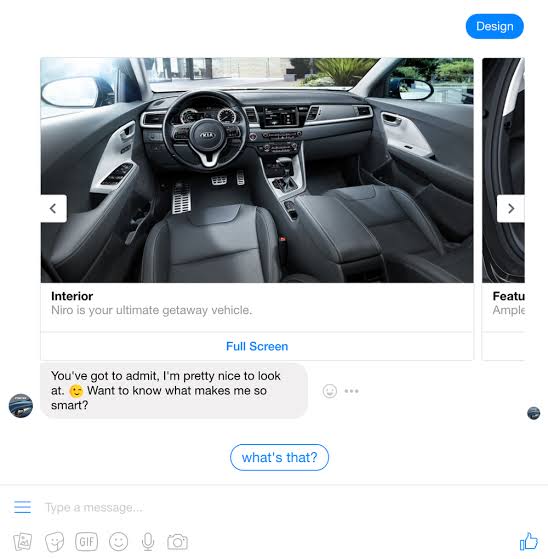 Photo credit: Chatbotguide.org
KIA is a car maker industry that uses a chat or that turns messenger into a viable platform for interaction. The chatbot is known as "Kian" which has generated 3x more interactions than the corporate sites and talks to 115,000 users per week. It has an average of 21% conversion rate.
What we can learn from the KIA chatbot:
Kia chatbot provide amazing metrics based on the expecting user objective this helps Kia to personalize services at different levels.
a) Collect user data to improve retargeting
Collecting customer's details and other needs should be captured by the Chabot instead of letting them disappear. This should be one job of a chatbot which they shouldn't miss. The collected leads can help to power your future sales and re-marketing efforts.
b) Offer different services in one place
Along with capturing lead information, the chatbot should also provide other assistance like providing bill payment options or connecting with a live agent.
c) Replicate human interactions to connect
The chatbot should be capable of answering any questions related to your products and services. Like solving queries about payments, services, return policy, etc.,
4) Madison Reed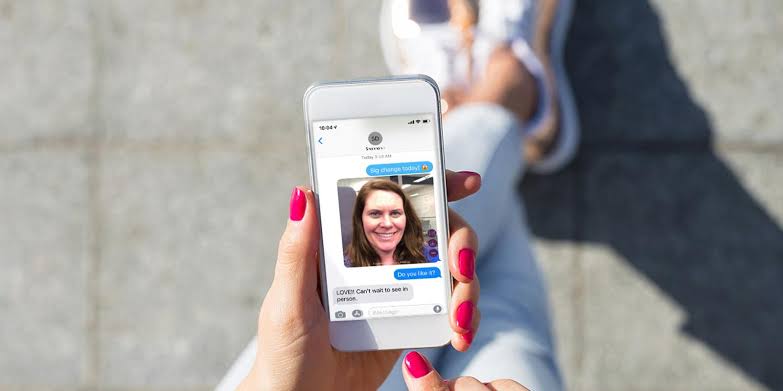 Photo credit: madisonreed.com
Madison Reed's chatbot is called Meet Madi. It's a hair color bot that is obsessed with finding its customers' most flattering shade. The most awesome feature of Meet Madi is the selfie submission. Users can submit a selfie-and Madi will point them towards the best color product recommendations.
What can we learn from Meet Madi:
Madison Reed's Chatbot teaches us a few valuable things on how one can build the best chatbot conversations.
a) Speak your audience's natural language
Madi uses "x's and o's" as well as flattering comments to build a connection with their audience. Just speaking the style of your audience can do wonders, try it yourself and see the numbers soaring high.
b) Solve an actual problem
Similar to other lead generation tactics, your chatbot should help solve a real problem for your customers. Like, how Madi acts as a personal colorist for their users and is available 24×7, this way people don't have to wait to take a colorist appointment which can take months.
c) Ask relevant questions
Meet Madi asks relevant questions from their customers. The bot asks questions such as "Is your hair chemically treated?" or "What color is your hair (not including gray)?" Madi has a unique personality, she makes their customers feel like they are talking to a friend, she's funny and witty. Just because of this personality of hers, Madi was able to boost engagement by 400% with a 21% click-through rate to the company's website.
5) Civilized Caveman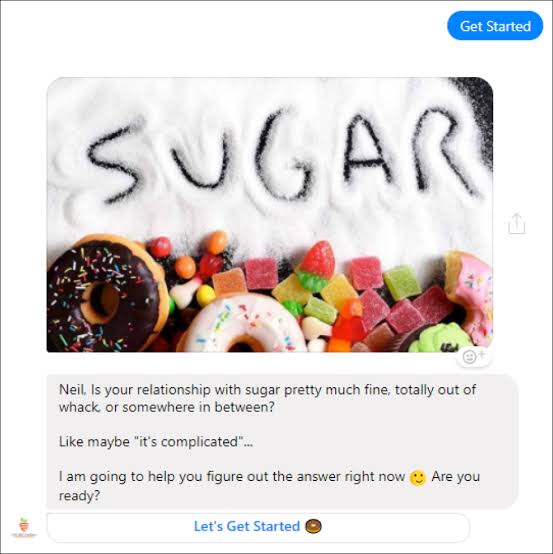 Photo credit: manychats.com
Civilized Caveman was one of the first companies to use a Facebook Messenger bot quiz. Any users who took their 1-minute "sugar quiz" were given a 7-day detox as a result. After that, Civilized Caveman was able to build a relationship with its now subscribers through offerings and content.
What Civilized Caveman teaches us:
a) Along with a conversational tone, the Civilized Caveman quiz provokes an emotion
The sugar quiz by Civilized Caveman prompted different types of people to become subscribers whether they are curious or are struggling with sugar addiction.
Through quizzes, users can automatically become a subscriber as soon as they Get Started. It's the best way to engage your target audience.
c) Take advantage of images to boost engagement
Images and GIFs are a great way to boost engagement. They immediately catch the user's attention and prompt them to take the required action.
6) Amtrak
Check out this youtube video From Amtrak
Chatbots are known for their speed and convenience. Due to this reason, the travel industry quickly adopted chatbots for business purposes. Amtrak is one of those companies that use a chatbot to help their visitors plan a vacation, book reservations, navigate their site– Amtrak.com, get route information, and much more. Amtrak's chatbot is a company's powerhouse that generates 30% more revenue per booking, 8X ROI, and answers over 5 million questions a year.
What can we learn from Amtrak Chatbot:
Amtrak is one of the best customer service chatbots in the industry. Here are few things that you can learn from Amtrak.
a) Leverage post-sales support as a revenue channel
It has been seen that the users who are satisfied with your service, ten to return and spend 67% more on average. In any industry, quick and convenient customer support leads to more profit and happier customers.
b) Have Live Chat ready for back-up:
It's not possible that a chatbot can answer any questions. To solve this problem, you should design your chatbot in such a way that your bot can get connected with live support for queries that need human help.
c) Create a chatbot around customer problems:
Amtrak makes it easy for their customers by booking tickets straight from the chatbot without leaving the page. Because of Julie's chatbot, about 375,000 daily visitors easily booked their tickets or completed other tasks without any problems.
7) Ovarian Cancer Canada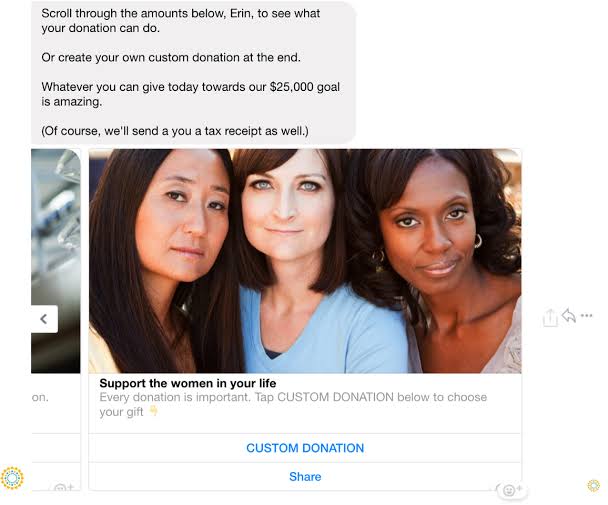 Photo credit: manychat.com
Ovarian Cancer Canada partnered up with UK-based social listening company Maybe* to create the first non-profit chatbot. The chatbot helped to overcome the outdated part of charity fundraising– which usually involves a bulky email list, face-to-face sign-up, non-credible data. The non-profit chatbot successfully secured a $10 million grant for research, boosted donation rates by 250â"… , and created a repeatable and cost-effective donation channel for the organization's future.
What can we learn from Ovarian Cancer Canada:
a) Learn more about users in your bot with a quiz
Ovarian Cancer Canada and Maybe* created a quiz to learn more about their subscriber's emotional state, ovarian cancer awareness level, and craft messaging accordingly to boost conversion rates.
b) Use dynamic content to build closer ties with your audience:
Ovarian Cancer Canada distributed the woman's story of surviving cancer through GIFs, videos, and images to improve engagement in the bot.
c) Accept payments inside your chatbot:
The chatbot allowed people to sign petitions and make donations through the Facebook Messenger Window that helped to increase the engagement rate.