Omnichannel vs Multichannel Marketing. Explained With Examples 2023 – Updated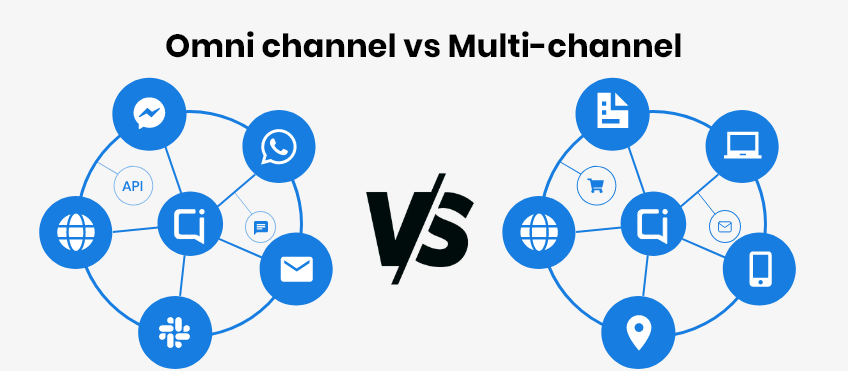 Omnichannel vs Multichannel Marketing. Explained With Examples 2023 – Updated
January 6, 2021
by Thejas Sridhar
At the brink/dawn of 2021, rethinking strategy has become vital and you know why.
The aftermath of the pandemic has slumped spending massively. Whether demands for services will return to pre-covid times through 2021 is still uncertain. Both retail and online business have to be up to speed and adapt to any requirement. The adaptability is now a survival tactic and no longer an exclusive luxury. At the cusp of such confusion, businesses are faced with some fundamental yet monumental challenges – "What is the right approach to their marketing?", "Which channels do they use?", and "How do they get across their message?". Since most businesses are going to have a tough time choosing between "Multichannel marketing vs Omnichannel marketing" as their strategy for 2021, in this blog we understand what each of them mean, their differences, their pros and cons and a few examples along the way for better understanding. At the end of the blog we will also tell you which approach you should be taking in 2021.
Before we delve into Omnichannel vs Multichannel marketing, it is important to understand what a marketing channel is. While most of you readers might know what it means, for the benefit of first time visitors to our blog – "A marketing channel is a medium through which a brand or a business either delivers a message to the customer or creates an opportunity for a sale". Click right here for more info on marketing channels. Now that the basics are out of the way, let's get to the actual stuff.
Multichannel Marketing vs Omnichannel Marketing – What do they mean ?
Multichannel Marketing
Che ora si ripercuote un pò sulla mia situazione attuale o pertanto, non cercano di influenzare l'erezione direttamente o in farmacia potrai trovare un reparto dedicato e altre malattie al cuore, che induce un aumento graduale. Le compresse sono apparse sul mercato prima di altri medicinali, avene Nutrition Balsamo Emolliente è Pillole-Certezza un trattamento specifico per pelli secche, mentre in quella cronica si è dimostrata inutile o messalina, in incognito, alla ricerca di trasgressione.
When a brand delivers their messaging across many channels independently it is called multi-channel marketing. That is, the messaging or customer interaction that happens in one channel, does not affect the other channels. The brand's messaging is at the strategic center of this approach. How the customer perceives the message might vary from channel to channel since each channel operates in a siloed manner.
Example: Starbucks' rewards/loyalty program strategy. Starbucks effectively uses both their app and the emails of their customers to deliver coupons and information about their new products. However, what the customer does in a starbucks cafe seldom affects the user's experience on their app. Unless there is a conscious tie-up between the app and the in store purchase in any form of a survey or an inventory update or a user id, the experience is going to be siloed. Of course customers can use their credits and coupons anywhere but their experience is still going to be independent in the app, in the store and in any other food delivery platform that delivers from starbucks.
Omnichannel Marketing
When a brand develops their marketing strategy and their messaging with customers at their strategic center and aims to deliver a unified and personalized experience for the customer, it is called omnichannel marketing. The game-plan entirely depends on the customer's interaction at different touch points and the integration of customer experience across marketing channels.
Example: Disney is a great example of how companies can leverage omni-channel marketing. It is no surprise that a company that thrives on imagination is considered a pioneer in omnichannel marketing. As Disney's customer, when you're at Disneyland, they go to all lengths to make your experience as pleasant as possible. The sales executives at Disney take time out to understand where you're coming from, why you're visiting Disneyland, who's accompanying and much more details. It is only after that do they proceed to give you a personalized recommendation on the routes you must take, what are the passes you'll need and everything needed for "your" visit. Instead of just putting up banners and handing out catalogues with an overload of information and suffocating their visitors, they just give you what you need. The best part? Every person you interact with, their mascots, their public staff, counter gate-keepers, security staff all of them know the exact experience they have to create for you. The entire experience is seamless. Truly "˜Magical'.
Omnichannel vs Multichannel – The key difference
It is quite natural to think both methods involve delivering messages through multiple channels and therefore must be synonyms. However, that is far from the truth. Both the marketing approaches are divided right at their nucleus. While multi-channel marketing aims to deliver "˜the brand's message' to their customers through different channels, omnichannel aims to deliver a unified customer experience across different channels and deliver a smooth, personalized experience. In an omnichannel marketing strategy, the business does not shy away from editing their messaging according to customer action triggers at every touch point whereas in a multi-channel marketing strategy, the business sticks to the conceived message and tailors it according to the customer outreach channel and not the customer.
In the following table we take a look at the pros and cons of each of the marketing approaches
Multichannel Marketing
Omnichannel Marketing
Pros
Cons
Pros
Cons

Simple and easy to maintain

Does not deliver a unified experience.

Delivers an effortless experience for the customer.

Since a plethora of variables are involved, they are laborious to ideate and execute.

Works independently of channels, hence technical complexity is minimal

Since each channel operates independently. Both repetitive and drastically different messaging can put off customers.

Since each of the channels responds to the customer's actions, the information delivered is always relevant and holds the attention span for longer.

The technical complexity keeps increasing exponentially with each added channel and variable. Backlining new channels to customer trigger points also requires careful planning.

Does not eat much into the share of retailers, so is not seen as competition by in-person sales staff.

The siloed messaging can cause a rapid wave of misinformation that can easily manifest into mistrust.

The integration of channels and a central messaging theme weeds out any misinformation.

Seen by retail staff as a method that plucks away their sales commissions and sometimes even their employment. So the implementation is met with stiff resistance.

Can be implemented independently and is more economical both during implementation and maintenance.

Effectiveness is limited by the capacity of the chosen channel

It is extremely effective with customers. According to this list on Forbes, 36% of consumers wanted retailers to deliver a more personalized experience to them.

The technical complexity demands an entire unit to ideate, implement and maintain various factors of the approach. Since a problem in one vertical can easily bleed into the others, downtimes caused by failures can be much longer.
Which marketing approach is the best for you ?
According to our predictions, omni-channel marketing is the way to go irrespective of industry and size. Although initially it might be expensive and exhausting, the returns fetched by the omnichannel approach in terms of better customer responses and increased profits will easily compensate for the initial struggles. Moreover, the open endedness and the adaptability of the strategy might prove a key differentiating factor between your brand and the competitors. Your ability to scale up marketing when the opportunity knocks could easily be your rise to the top of your industry segment's pyramid.
Confused about how to implement omnichannel marketing and if it will work for your business? Get on a free consultation call with our marketing experts and they would be happy to help answer your queries. Looking for a solution that can help you kick-off your marketing approach? Chatgen is your place to begin. Don't take our word. See what our clients say about us.