Key Difference between Demand Generation & Lead Generation in 2021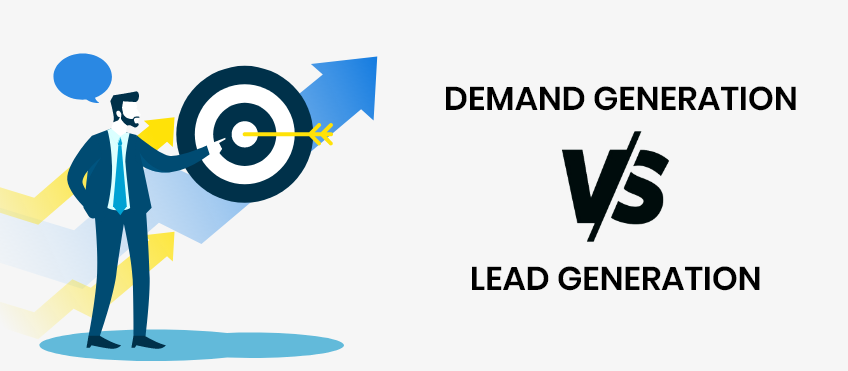 Key Difference between Demand Generation & Lead Generation in 2021
February 5, 2021
by Kesar Rana
What is demand generation?
Demand generation is a method that is used to create awareness and demand for your company's product and service. The aim of demand generation is to target and bring new visitors to your website or business in order to theme them with your brand. The end result is to build your target audience, engage with them, establish trust, and make them interested in your company. The demand generation content includes:
Blog posts or articles
Resource pages
Infographics
YouTube videos
Social media posts
Press releases
Slideshare
Podcasts and interviews
Free tools
Case studies
Mostly, the demand generation content is provided for "free" in order to attract new potential customers. At this stage, they don't have to provide any info to you to get access to the content.
What is lead generation?
Lead generation is the process of converting potential customers into qualifying leads. It is a way to funnel in the potential buyers of your product or service in the buyer journey. The aim is to find qualified leads for your brand so that they can be added to the lead nurturing process and so that a salesperson can follow up. Lead generation involves providing them gated content in exchange for contact information. The key generation products include:
EBooks, PDFs, checklists, cheat sheets, whitepapers, etc.
Courses
Free-Trials
Product Demos
Viral Contests (where someone needs to enter their email or other contact information to enter)
Email Subscriptions
Events
The key differences in demand gen & lead gen
Demand generation:
Demand generation is used to create awareness and attract new people to your company. It uses free content to create awareness and attract potential customers. The person doesn't have to give anything in exchange for the information. The goal of demand generation is to identify new prospects and create demand for the product. Demand generation increases trust, raises awareness, solves a problem, generates interest, and puts confidence in the things that the product can do. It can include sharing thought leadership articles that demonstrate your expertise, spans attention in understanding the product features, publishing free resources and tools that tell how useful your services can be, or sharing influencer posts that tell the brand values.
Lead generation:
Lead generation is a subset of demand generation. It is used to qualify the potential buyers into leads and make them move into the next stage of the buyer journey. Mostly, the gated content is used in the lead generation process. The person has to provide the information in order to get access to the content. The goal of lead generation is to find qualified leads and take them a step further into the customer journey. Lead generation summarizes the gathered interest from demand generation into an actionable activity.
What are the examples for demand generation campaigns?
1) Create SEO-Driven Content
Creating content that your user searches frequently and solving some of their burning questions helps them get attracted to and be aware of your product. The SEO-Driven Content can be prepared by conducting keyword research and identifying the keyword opportunities. For example, checking google search by searching the keyword and scrolling to the bottom to find more related keywords. You can also check out Quora and Reddit and take a look at the type of questions your potential buyers are asking.
2) Guest Posts
Getting published in reputable publications in your industry helps your brand become visible to the target audience who is still not aware of your product.
3) Create Industry Expert Roundups
Expert Roundups are blog posts where you collect quotes from experts on a particular topic that your target audience wants to read. This is one of the most shareable contents that is taken well by the users.
4) Advertise on Industry Blogs
Using paid promotion methods like ads, sponsored posts, or buying a sponsored email slot from an industry blog that your target audience already visits are some of the ways to showcase your brand to a large number of people.
What are the examples for lead generation campaigns?
1) Distributing an EBook
EBooks are a good way to tackle a broad topic and showcase your expertise to your target audience. They can be provided across multiple blog posts on your website.
2) Repurposing Your Content
Upgrading your content or repurposing it into different formats is another form of gated content. This helps increase the conversion rate as these types of content focus on specific topics to a particular blog post. Examples are:
A PDF version of that same blog post
A checklist
Step-by-step instructions
A cheat sheet
3) Host a Webinar
Hosting a webinar with experts is another way to capture leads as the event requires users to register using a sign-up form in order to attend the event.
4) Using a Lead Analytics Platform
Some target audiences don't want to provide their contact information due to various reasons. That's the time you have to take matters into your own hands. These persons can still be qualified leads but they are hesitating or have questions that aren't answered yet. You can use a lead analytics platform like LeadBoxer to identify their contact info and reach out to them.