Future of B2C Communications – AI Chatbots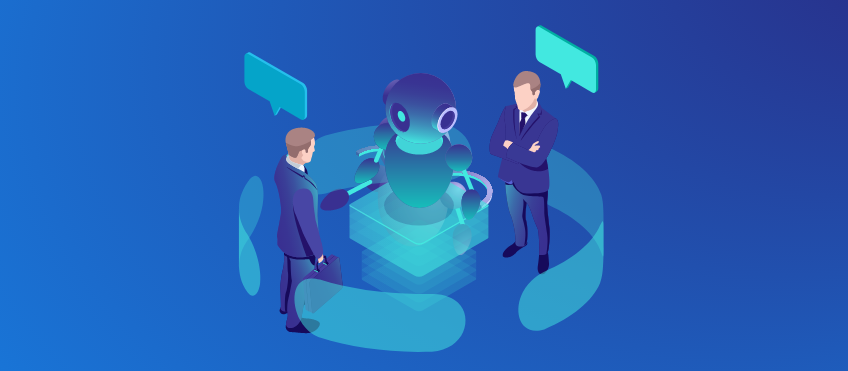 Future of B2C Communications – AI Chatbots
December 9, 2020
by Faisal Sayed
A recent study shows that 9 out of 10 consumers would prefer and pay more for a better customer experience and that a good experience would make 60% of them try a new brand. Therefore, it definitely makes sense to deploy conversational AI platforms to engage with customers.
For those new to the term, conversational AI is a set of technologies enabling devices to interact with humans in the form of personalized conversations. It allows B2C companies to engage with customers across different channels "" social media platforms, website, native app, messaging app, text or voice-based chatbot, and Digital Assistants like Alexa, or even voice assistants like Google Home.
The working mechanism of a chatbot
Chatbots can interpret and process the user's words or phrases and give an instant pre-set answer. There are three main types of chatbots:
Rule-based chatbots
The simplest of the three, interactions is via the use of buttons and predefined questions. The user makes a few selections based on which the bot gives relevant answers. The guidance is slow and the user journey is longer as compared to the other types. These types of chatbots are best for answering basic customer support issues.
Intellectually Independent Chatbots
These types of chatbots are based on Machine Learning via user's inputs and requests to come up with viable solutions and replies. The trigger phrases can be a combination of buttons and menus that make it easier even for a user to interact with a bot. A user can type in their queries from where the chatbot would pick up keywords and provide them with predefined answers.
AI-powered chatbots
The most advanced form of chatbots, these use ML and AI to set and remember the context of a conversation and user preferences. They do not have any problem jumping from one point of pre-defined conversation to another and access random use requests during an ongoing interaction. In short, the possibility of a 2-way conversation where the context can divert off the actual context, and come back to the main conversation, just like in real human interactions, is a reality in these types of chatbots.
Use of chatbots
From everyday tasks to business affairs, chatbots can be used for a variety of purposes. Their main goal is to make people's lives much easier. 
Chatbots for sales
The use of chatbots for better reach and higher sales has proven to be the way forward for most businesses. It can be created to sell any kind of products and services your company is providing.
A great example would be the flight search engine Skyscanner. With a chatbot on FB messenger, Skyscanner helps their customer by providing the best travel options based on a small amount of information given by the customer. This in turn lets their customers go ahead and engage with the business, and consequently buy a travel experience with them.
Similarly, any business can help reach more customers and provide them with the best options without the person having to put in too much effort to find the right product or service.
"47% of consumers are open to buying items through a chatbot, and 37% would buy items from Facebook." HubSpot
Check snaptravel's chatbot where it books rooms from Facebook messenger 24/7
Chatbot for customer support
Probably the most common practice of using a chatbot is for customer service. Automated communication with customers helps businesses save on customer service costs by decreasing response times, freeing up agents, and answering up to 80% of routine questions. Users get an immediate reply, making sure you won't lose a prospect. Infact, Tec InStore, the German company, was able to cut down basic requests to a customer support center by 50% using chatbots.
"55% of consumers are interested in interacting with a business using messaging apps to solve a problem" HubSpot
Check Senco bot here developed by Chatgen where it helps the users in assisting about the products and also customer support
Chatbots in Real Estate
People often visit real estate websites to check the flats, details, and also prices. Websites often load with a lot of information which makes it difficult for the users to go through them in detail. So, they would rather give their details for a callback and when the user gets a call back they mostly ask about the information that is present on the website a lot before proceeding with the site visit. Real estate bot can answer these basic questions right away and can book the user details directly to a project site visit
Check Puraniks chatbot here developed by Chatgen team to increase their site visits and has seen tremendous growth in their site visit volumes
Chatbot for Healthcare
From finding the nearest hospital to advising treatment based on the symptoms of a user, chatbots come in handy to the healthcare industry. Reaching out to regular patients or tending to basic healthcare issues is made easier and reliable. These chatbots take their knowledge from medical directories, providing the most relevant and trustworthy information to users.
Check this video for a better understanding of a healthcare bot
Chatbot for legal services
Consultations regarding legal questions, providing information over topics, or even generating legal documents becomes easier and faster with Chatbot-lawyers. For example, legal chatbot Ailira can generate documents, provide helpful legal information, and schedule users an additional consultation with a human-lawyer.
"The McKinsey Global Institute has found that 23% of a lawyer's job can be automated by bots." McKinsey& Company
Chatbots in Banking
Forward-thinking banking institutions have taken to chatbots to help with the prompt delivery of "˜contextual insights' to individuals in need, through various channels. With the ever-increasing growth in AI technology, and the conversational approach through which bots communicate with consumers investors are beginning to see chatbots as new-age contact center executives, helping to minimize TAT and costs along the way.
Functional chatbots can answer questions such as:
How much was spent on traveling last month?

Can I get a list of the nearest ATMs to my location?

Can you transfer N amount of money to XYZ vendor now?
Check chatbot on https://www.us.hsbc.com/ where the calls handled by the banking chatbot have been reduced by 90%
Chatbots in Insurance
Insurance chatbots can assist with onboarding complaints from consumers and fraudulent claims. This is achieved by simplifying inquiries into work, auto, and travel policies. We help to avoid idleness as they can evaluate the customer's collected data quickly in order to figure out the risk associated with their profile.
In addition to being used for insurance, chatbots can handle a number of other functions
Here is an example of an insurance claims bot deployed on Zurich. Check here
Chatbots are here to improve productivity by automating a lot of tasks in your end-user journey. If you want to explore how chatbots can be useful for your company, please book a meet with us today here