Easily reduce the cart abandonment rate with the chatbot (2023 Updated)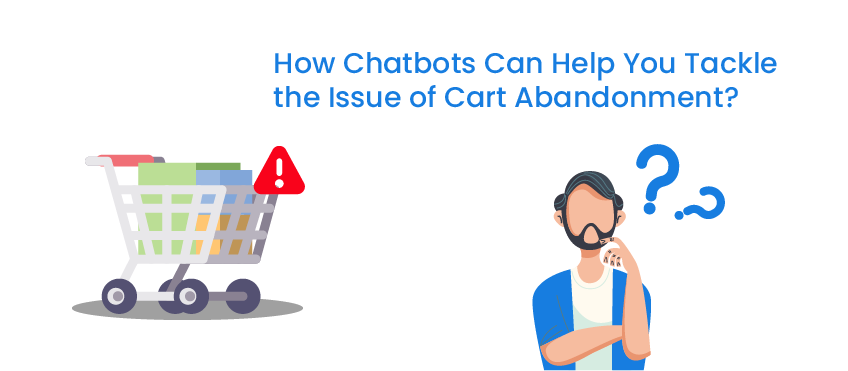 Easily reduce the cart abandonment rate with the chatbot (2023 Updated)
December 9, 2020
by Prasanth Sai
Cart abandonment is the simple phenomenon of a person adding an item or more to their shopping cart but then leaving the website without making a purchase. marketers in eCommerce grapple with today. In the first half of 2019 alone, the global cart abandonment rate was a whopping 84.24%.
How to calculate your cart abandonment rate?
Like with any other marketing problem, you can't solve it if you don't measure it. Luckily, measuring your cart abandonment rate is fairly straightforward:
Cart Abandonment Rate (%)= (1 – Completed Transactions/Number of Carts Created)*100
To understand the implications of this cart abandonment rate, it's a good idea to also track the revenue loss for your eCommerce business due to this issue.
Revenue loss = Number of Abandoned Carts* Average Order Value
How do you resolve cart abandonment?
There are two aspects to this. The first is that you may be doing things (as part of your user flow) that are actually driving people away from your shopping cart. So first things first, you need to stop doing those things.
Stop creating an experience that pushes people to abandon the cart
So first make sure that you're not doing anything that's actively preventing people from abandoning their shopping cart. Here's how:
Make sure your extra costs are not too high


Ever had this experience as a shopper? You add an item to your cart, you're about to check out, and suddenly realize your bill has been bumped by at least 15%! There's now a section called 'Shipping and other charges'. This is one of those reasons why people often end up abandoning their carts — the last-minute price bump becomes repulsive. As an alternative, try to see if you can include the price of shipping in the price of your product itself. This will ensure there are no nasty surprises at the end.

Optimize your checkout process


If your abandonment rate is extraordinarily high, chances are your checkout process isn't fully optimized. Is there a complicated signup process that pops up just when the user wants to make a purchase? A complicated payment pathway? Or a few too many steps from cart to checkout? It might be time to go back to the drawing board and build a shorter, smoother user experience. It's important to keep testing, getting feedback and iterating until the checkout process is just right.
Actively create an experience that encourages a purchase
The second aspect of reducing cart abandonment is to build an experience that actually encourages the customer to take those final steps. Imagine this — you are at a big store with a self-checkout process. No one cares if you buy anything and no one asks you what you're looking for. Unless you're in there for something very urgent and specific, chances are you won't make a purchase.
Now imagine you're at a store that has a helpful salesperson at hand. Without being too pushy, they find out what you need, show you different options, and nudge you gently in the right direction. Chances are you'll not only make a purchase but even get an item or two that you weren't really expecting to.
That's precisely the difference that a good chatbot can make to your online store. A chatbot can be a widget on your website, on a landing page, or even on Facebook Messenger or Whatsapp.
Here are the different ways in which a smart chatbot helps resolve cart abandonment:
Answering Frequently Asked Questions (FAQs) before and during the purchase


Customers often have simple queries in their mind — is this item toxin-free, can it be packaged as a birthday present, and so on. If the answers aren't immediately obvious, they tend to abandon the purchase altogether — especially if it's an impulse buy. Here's where a chatbot (whether clicked-on or automatically triggered) is really useful. If it can immediately answer simple FAQs, chances are that customers will ultimately hit that purchase button.

Guided selling


A good salesperson at a retail outlet is so much more nuanced than a mere recommendation engine. They really try and understand the needs of the buyer and guide them towards the right item. AI-powered chatbots can be set up to do exactly this. Chatbots like ChatGen are empowered to understand user preferences, answer product questions, and even up-sell and cross-sell products without seeming pushy or invasive. The chatbot can even be set up to automatically get triggered based on predetermined conditions — such as when a user spends some time on the website without making a purchase.Adidas is a great example of this chatbot-based guided selling. They recently launched a female-focused community space Studio LDN. The only way to book a space in this studio is through the Facebook Messenger chatbot, which is specifically designed to answer all customer queries and guide them towards a booking.

Personalized offers


This can be exactly what the user needs to press that final button. Perhaps a small sample of the latest product free with their purchase? Or a last-minute 15% discount? With AI-based chatbots like ChatGen, you can even set up triggers for these offers based on user behaviour.

User engagement


AI-powered chatbots are designed to engage with customers in a way that's friendly and human. This can help you build a customer experience that leads to eventual purchase and long-term user retention. UK-based Just Eat has used chatbots to enable customer engagement in a big way. The chatbot allows people to search for restaurants near them with simple keywords and even emojis. For instance, people can send a pancake emoji to find the best pancake eateries near them. This is designed as a much more fun and engaging process of ordering food vis-a-vis the traditional way of ordering on the app. The chatbot has seen some fantastic outcomes, with 13.5% of the users being repeat customers and a 266% higher engagement rate than the average social ad.

Getting customer information


Often, you may not actually be able to prevent someone from abandoning a cart. The next best thing is to get some crucial customer information that can help you close the sale at a later date. Even getting an email id can allow you to send the user personalized offers and reminders that can eventually result in a purchase. With a chatbot, the process of getting customer information won't feel forced or invasive. It can happen naturally as part of the conversation. For instance, if an item is not in stock, the chatbot can be set up to automatically pop up and ask the customer for their email id to inform them when it's back in stock.

Get feedback from users


The key to designing a completely smooth and hassle-free user experience is to understand exactly where things are getting stalled. The best way to do that is by gathering as much authentic, real-time customer feedback as possible. Chatbots are a great way of gathering this feedback. By asking the customers questions at the right time, in a simple conversational way, you can get all the insights you need. It's important to make sure that these feedback-oriented questions are integrated into the natural customer conversation as much as possible. This will ensure that you can get the insights you need without really hampering the user experience in any way.
Setting up a chatbot
Luckily, setting up a chatbot (even an advanced, AI-powered tool) isn't a big deal anymore. You don't need to build the technology from scratch, or even spend weeks implementing it.
With ChatGen, for instance, you can get the chatbot set up as a widget on your website in a matter of minutes. Simultaneously, you can get the chatbot set up on Whatsapp and Facebook Messenger as well. While you work on smoothening out your checkout process in the medium and long-term, setting up a chatbot is a great way to get started.
The bottom line
Cart abandonment isn't exceptional — it's an inherent part of the way most online stores are designed. Unlike physical outlets, there just isn't enough guidance and interaction that compels a shopper to actually commit and make a purchase. While creating a smoother checkout process will solve some of the issues, it won't necessarily give customers that personalized guidance that's needed to really close the sale. That's where chatbots come in. From answering questions to engaging users to creating a customized shopping experience, chatbots can become an invaluable tool in getting you those final conversions.
FAQs