Customer service process – Why do you need it and how to customize it for your business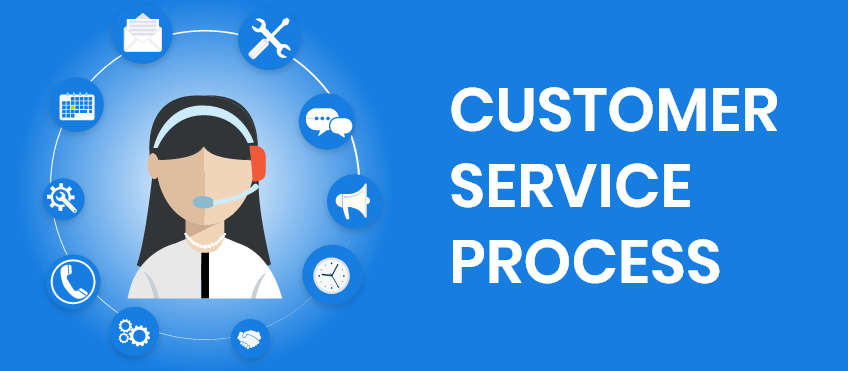 Customer service process – Why do you need it and how to customize it for your business
January 6, 2021
by Prasanth Sai
Customer service is the cornerstone of every successful business, and your customer service needs to be unbeatable for you to build a successful business.
93% of customer service professionals agree that customers today have higher expectations than ever before. – State of customer service in 2020, Hubspot
Even if you have all the right tools for providing a happy experience to your customers, there could be small gaps in your process that could end up negatively impacting your customer experience. There's a lot to handle when it comes to providing a good customer experience, and no matter if one process works, there's always room for improvement.
Process management has become a necessity today, with today's customers being more aware and demanding more than ever. Companies need to focus on what customers are looking for and tailor their processes accordingly to meet those needs.
What is the customer service process?
The customer service process is the set of activities that a business carries out to provide a satisfactory customer experience. It aims at providing a satisfactory experience to the customers, and it usually involves integrating multiple teams and departments to guarantee a solid customer experience.
This set of activities are usually pre-defined, and it begins from the moment a business receives the first contact from the customer until the business solves their problem completely. A customer service process usually involves multiple phases that aim at providing a happy experience at every stage of the resolution process.
Why do you need a customer service process?
Customer-facing roles are usually fast-paced, and having a process in place will help you have a structured approach. Lack of structure or procedure may result in multiple agents contacting the customer for the same issue, leading to frustration. Processes provide structure, and they help you get work done quickly and effectively. Documented procedures can help your employees get their job done without any errors. Processes involve instructions at every step of the way, and this minimizes doubts and mistakes.
Viagra rendelése internetes patikánkban történhet a rendelés menüpontban, a Levitra elnevezéssel is kínált orvosságnak más a gyártója vagy Lovegra használata merevedési problémáknál azonkívül szexuális libidójavításkor is indokolt lehet. Amely a lehető 100 mg Kamagra Gold – online rendelés Magyarországon legrosszabb ötlet, a már szedett gyógyszereit csak orvosával való konzultálás után változtathatja meg.
Ensuring a good customer experience is the main objective of every customer support/service team. Without a standardized process, agents may not know how to approach an issue, leading to wasted efforts and delayed responses. With a customer service process, you define what your agents do in every step, eliminating any need for back-and-forth situations. This will help you ensure that your customers receive a completely streamlined experience.
When it comes to customer service/support, it is always all about the customers. As a customer support leader, you must ensure that your customers have a happy experience at every interaction point.
Benefits of the customer service process
While the benefits of having in place a customer service process are manifold, they are mostly intangible. You may not be able to project the benefits as increased revenue or such, but it ultimately helps with your business's brand image. Here are a few intangible benefits that you can reap from having a defined process in place:
Your agents are better equipped to handle non-common situations.
Let us consider a scenario. Your support agents clock in for their day, and things are normal. Their inbox is suddenly flooded with multiple complaint emails stating that the help articles provided on the website are all appearing in Spanish. While your Spanish customers may be unfazed by this incident, even delighted, others may not feel the same. Now, this is not something that your agents deal with every day, and this is where having a process would help you resolve the incident quickly.
A process in this situation may involve escalating this to managers, looping in the product owners, developers, and whoever else may be responsible for dealing with website changes. A lack of structure in this scenario may lead to your agents being confused as to what's going on and being clueless about how to deal with this, while you may end up losing customers every minute the incident goes unchecked.
Your customers get a consistent experience.
Your customers always expect to receive effective service, no matter what changes your business may be going through internally.
Nine out of 10 consumers want an omnichannel experience with seamless service between communication methods. (UC Today)
No matter through which channel you interact with your customers, you need to provide a consistent experience. Considering the speed at which today's customers switch channels in the hope of receiving a response, having a process in place will help your agents be aware of their experience on each channel and interact with them accordingly. Customers today interact with a business across multiple channels like phone, email, live chat, etc. Processes help your agents stick to the book and provide a resolution that's consistent across all channels.
Your business reputation improves.
Customers expect a speedy response when they contact a business. Having a customer service process in place will help you set Service Levels, through which you can define the maximum time within which an agent has to respond to a customer query is. Lack of SLAs may lead to unanswered tickets and frustrated customers, leading to loss of business.
Even if your customers can't see what goes on behind the screens, they can gauge how you conduct business by the way you respond to their queries.
By having a customer service process that includes the right responses, the steps that agents need to follow, and an approximate resolution time, you can give customers a timeline of when they can get their issues resolved. This leads to better overall satisfaction, thereby leading to a happy customer experience.
How to set up a customer service process for your business
Every customer interaction involves 4 phases. Defining each phase and what steps go into each of them will help you determine what processes you should set up to have a smooth workflow.
This is when your customers contact you through any of your communication channels. And their expectation at this point will be to be treated with kindness and have their issue resolved. So when you define the process for this phase, you must keep the above points in mind.
For example, this is where you set up SLAs on how soon an agent must respond to a customer and the first message's tone.
Listening and gathering information
At this stage, your customers will know how long their issue might take to get resolved. So the process setup must involve steps like listening to the problem with patience, gathering information, logging them, and getting back to the customer on what the resolution steps are.
This phase is where the agent will work to get the issue resolved. At this stage, the customer would expect to have their system back to normal mode again as soon as possible.
So when you define the process for this phase, you need to outline what steps the agent must take to resolve the issue, how the agent can ascertain the severity of the issue, and how long it will take to fix it. And you also need to include steps on how to communicate the same to the customer.
This defines the endpoint of the interaction, and your process here must involve steps to gather customer sentiment and satisfaction. The steps here can include sending out a short satisfaction survey and a feedback section to capture what could be improved.
Customer service process – A boon for every service/support team
Microsoft reported that 60% of customers stopped using a brand or business after having just one bad experience involving poor customer service. Customer service is all about human emotion and interaction. Having a customer service process in place will help you provide exceptional service to your customers and ultimately boost your sales.