Automated customer service: A complete guide for your business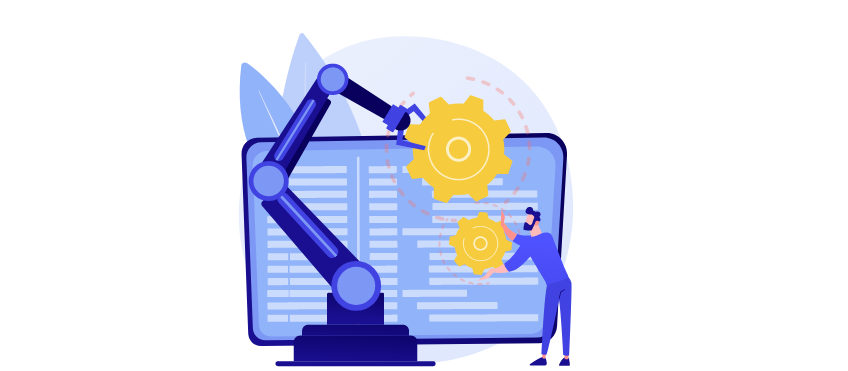 Automated customer service: A complete guide for your business
February 15, 2021
by Kesar Rana
What is automated customer service?
Automated customer service is defined as a method of consumer support that can be provided by an automated system in the form of a chatbot, help centers, and other artificial intelligence. The automated customer support can be available 24*7 and can be used both as a way to reduce the cost of human support representatives or as an assistant. The customer support team often needs efficient help desk software in processing, receiving, and responding to requests for service which can be done by automated customer service.
In other words, automated customer service is a purpose-built process that aims to deduce or reduce the need for human involvement while providing advice or assistance to customer requests. Here, your job is to understand your customer's needs and provide timely and relevant help to them. Sometimes, the unusual difference between expectations from customers and internal support skills that are provided by your company complicates the situation. But that's what has to be done– to bring both at the same level and connect the two to make good customer service for your customers. That's where automated customer support plays its part where it provides opportunities to offload the human touchpoints when they become unnecessary or inefficient. Creating the balance can include:
Using preloaded email replies and canned responses

Knowledge bases with customer self-service portals

Chatbots and live chat (which can be overseen by customer support)

Organizational automation with "if this, then that" logic

Using artificial intelligence and machine learning

And assigning requests immediately to the right person or department
But that doesn't mean that doing all this automation replaces the relationship between customers and employees. Only, it makes the process easier for you.
The necessity of Automated customer service in your business
Always-on support
Providing spot-on support is one of the advantages of automation. Helping out your customers and solving their queries within time regardless of your customer's time zone, circumstances or location. Unlike live agents, Automation tools aren't constrained by the call center's opening hours and your customers seek rapidly "˜self-service' issues which can be done without taking the help of call center agents. Because of this reason automation can handle well frequently asked questions and frees up human agents to work on more complex issues of customer service.
Lower operational costs
Automated customer service drastically improves operational efficiency and cuts down customer service costs.
Time and efficiency
Automation frees up your time so that your team can handle more complex user queries and strategic tasks. On the same hand, automation quickly solves your customer's queries with less effort required on their end. This is in valuing other people's time which is the most important factor in providing a positive customer experience.
Customer satisfaction and loyalty
Automation provides faster response time, short resolution time, and consistent support across multiple touchpoints. Which are the key features in providing positive customer service and keeping your customers satisfied.
Agent satisfaction
Various tools like chatbots help to alleviate pressure on the agents by automating customer interactions over their preferred channels. Automated customer support can handle high-volume, low-value queries and freeing up the time where your team can do more difficult tasks. When it is integrated with a cloud contact center, they give agents a unified view of customer's data and conversation history, so that your customer service team has all the information they need to resolve the queries quickly.
Scalability
Automated customer service tools like bots allow your customer service team to provide omnichannel, personalized customer service. Artificial intelligence automation makes it easy to test, measure, and learn so that you can continually optimize the customer service experience.
Examples of automated customer service
Employee analytics
Intelligent automation systems know how to dig out data and numbers from deep within the data pools. Software like Gusto, Culture Amp, and Luminoso help HR teams in making sense of large amounts of employee data to improve employee happiness year-round (instead of waiting for the annual review). Large companies like Roche, Johnson & Johnson, and Hulu already use these tools to better understand and engage with your global teams. With every new technology there comes its new advantages and disadvantages. In its recent report, the Society for Human Resource Management (SHRM) mentioned the dangers of blindly trusting an AI-powered tool. Like any other tool, even a powerful AI tool can have errors in its employee data analysis. For example, if the AI has insufficient data to work with, it can end up taking the bulk of its insights for one large company and giving uneven numbers to the others. To avoid this situation, always ask your vendors for case studies, examples, and references to understand how these tools will function in a real-world workplace area.
Hiring process
Hiring new talents is always one of the toughest and important tasks for any company– just looking at the application can keep your HR busy for days. That's where automated hiring tools can help to read through the applications at incredible speed, just by searching for specific keywords to quickly identify the candidates from thousands of applications. According to CareerBuilder, 71% of employers said that automated applicant tracking software helped them to improve the candidate experience. Automated hiring and recruitment tools such as Smashfly, BreezyHR, and Mya use AI to notably reduce the time to hire and speed up the screening process. Sometimes, automated systems can overemphasize certain keywords, causing them to miss qualified applicants and some applicants can even cheat the system. Peter Capelli, HR Professor at Wharton said that it's important to ask your vendors to show you how their services got you the right employees. Automated recruitment tools like Breezy makes the process human with quick video assessment tools to help HR pros save time and get to know about the person behind the resume.
Employee help desk support
With new powerful AI, chatbots are becoming more common but also more smart and useful. Chatbots are just not limited to customer requests. If you're tired of answering the same questions again and again, you should probably take the help of chatbots. In this case, Chatgen can help you answer the internal requests. The chatbot can work well for IT, HR and office managers, and more, they will have more time to do big projects and their core responsibilities. Chatgen uses AI to draw insights from each request, so it can answer questions quickly.
Meetings
Meetings can often be tricky whether the companies are big or small. It's often a tough task to find a place, schedule the meetings, and make sure that all the right people show up. Tools like Doodle can help you in quickly doing the tasks by helping you in tedious group emails so you can easily compare availability and find out the time zone that works for everyone, even if the participants have different time zones. To streamline face-to-face meetings, Teem provides automated office lobby displays to let customers and visitors know they're up and help direct meeting participants to the right room.
Form autofill
LastPass and RoboForm can help you in filling out the online forms and freeing you from remembering passwords every time you try to log in. These tools use strong encryption technology to help you securely and automatically fill in any online form. Even filling out payment information is fast, secure, and easy. The tools can also help you generate very strong passwords and store them in a locally encrypted password-protected vault. This helps you to save the spot for the stuff that's more important to do. You'll only need one password with these tools.
Advantages of Automated customer service
Leaving no room for human error
Automation tools can minimize or remove the error to a great extent by reducing the work of human agents in this service of your area which provides less chance for mistakes to take place and providing employees to put their attention in other areas.
Minimizing the wait time
Traditional customer service has a long wait time which is not liked by many people. This problem can be solved by using automating customer service.
You don't need to hire more employees
It's not always profitable to hire new people for business. Sometimes, low funds or small office space doesn't allow for the hiring of new talent. But you can use a live customer support help desk software which is very affordable to use and solves your problems in many ways.