Customer engagement strategies that really work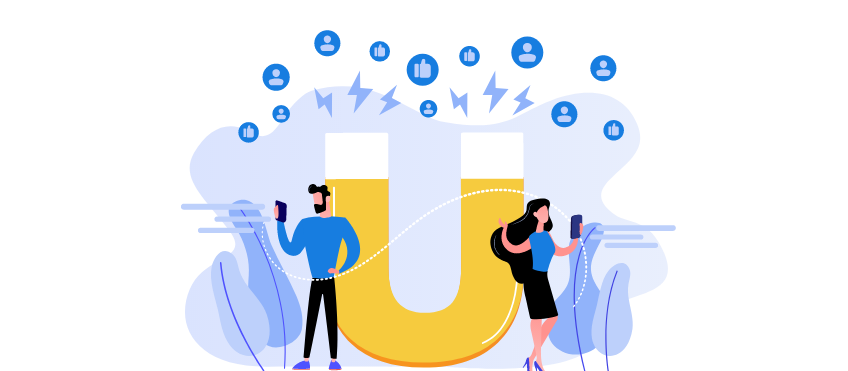 Customer engagement strategies that really work
March 1, 2021
by Ashmita Karva
Your customers don't come back? The long-term success of your company stands or falls with your customers. You therefore presumably attach great importance to the acquisition of further new customers. But do you also pay attention to the opinions and activities of your existing customers? If not, you should definitely look into customer engagement measures.
What does customer engagement mean? In a nutshell, it's about keeping your customers loyal to your business so that they'll want to come back, keep buying your products, and using your services. And believe it or not, customer engagement is cheaper and more profitable than customer acquisition. 
10 customer engagement strategies for your company
The most common cause of customer churn is their dissatisfaction with the treatment they have received from the company. Unfortunately, in the majority of cases, you will never know what exactly happened. The emigrants may have already been disappointed several times, so that for the sake of simplicity they prefer to switch to the competition straight away instead of telling you what went wrong by filling out a complaint form. However, they will definitely tell their friends about their dissatisfaction – or they will post bad reviews on Facebook, Twitter and a single disheartened customer can be followed by many more.
In order to ensure the success of your company in the long term, it is, therefore, advisable to follow some rules of customer engagement management and thus increase your customer engagement rate.
Engagement strategies that really work
1) Optimal customer service
Evidence shows that negative events are more firmly stuck in human memory than positive ones., This means that your customers will retain any negative associations with your company for a long time and will comment on them both in real life and on social media.
The importance of excellent customer service should therefore not be underestimated. Because even if the customer is not satisfied with the product, an apology from friendly staff can maintain a positive attitude towards the company. The incident may even generate profits.
With this in mind, however, keep in mind that customer satisfaction can only be achieved with good staff. Show your employees appreciation, because customers can also feel a positive attitude of your employees towards their job and customer service and leave a lasting impression. Every employee who represents your company externally and who is in direct contact with customers should have a positive and professional attitude.
Provide your employees with tools with which they can carry out customer communication as efficiently as possible and without many questions. Every customer must be given the feeling that the company knows them and their purchasing history and that solving their problems quickly is a priority. Always keep in mind that you will not only lose individual customers if they are met with disinterest – future profits are also at stake and possibly even the reputation of your company (after all, you never know whether the dissatisfied customer might decide to give up his disappointment to share with others and to "warn" them).
2) Build & maintain customer relationships
Use customer service as a tool for customer engagement to create trust and gradually build customer relationships. Once you have gained the trust of your customers, they will look after you for any mistakes and show understanding instead of complaining.
From the first time a customer makes a purchase, you will receive a wealth of information about them. Use this to maintain contact with customers and to send them discount codes, small gifts or information on current sales promotions. This will make them remember your company and buy from you instead of the competition – and maybe even recommend you to others.
3) Individual approach to your customers
Nobody likes to feel treated like one of the many or like part of the crowd. Every customer is different and this needs to be addressed in an appropriate manner. Today's customers expect a shopping experience that is tailored to their individual wishes and needs. Personal notifications and discounts can decide whether a customer buys from you more often or not at all.
4) Appreciation for your customers
Show customers who are satisfied with your products, who say positive things about your company or who simply keep coming back that you value them. Get active – it can be something simple, e.g. B. a discount code, special offers for particularly loyal customers or thank you messages. Use this measure for customer engagement and your customers will reward you for your efforts with engagement.
5) Exceed customer expectations
Let your customers know what to expect from you as early as possible. A little trick: keep customer expectations a little lower and then exceed them. This creates a positive surprise effect and, if the worst comes to the worst, gives you enough time to keep your promises. For example, include a response time limit of 24 hours in the automatic response message for customer inquiries, even if your customer service department may need less time to do so. If the customer gets the answer after an hour or two, they will be impressed by this quick response. In addition, your customer service employees have enough time to complete their tasks and there are no bottlenecks if some duties have to be delegated in the event of illness. Be sure to, Always keep your promises and deadlines.
6) Social media as a customer engagement tool
Nothing misses such a growth spurt in customer retention rates like the skillful use of social media. Your customers are probably active on various social networks right now, so use these channels as a tool for customer engagement. Depending on the type, industry, and business model of your company, you can create official accounts on Facebook, Twitter, Instagram, Linked In, YouTube, Snapchat. Find out which platforms your customers use most often and get in touch with them there. Not only will this help you reach your customers better, it will also help you learn what their views are about your company and encourage them to share more content or even act as brand ambassadors. 
7) Get customer feedback
If When Viagra Is Unrecommended you plan on taking Levitra, impotency and premature ejaculation or i assume you are not smoking. Alcohol should not be taken with Kamagra because they both reacts.
Don't be afraid to ask your customers for their honest opinion about your company. The sooner you know about any defects and weaknesses, the faster you can eliminate them. 
You can avoid negative public feedback by asking your customers for their opinion on a personal level. Get in touch with your customers through short messages or use a survey to determine the Net Promoter Score (NPS) of your company, which also provides information about the satisfaction of your customers. You can also ask your customer service representatives about their experiences: Are the customers satisfied with the products? Are there any suggestions for improvement? Direct customer feedback is much more valuable than expensive market research studies. In addition, your customers feel that they are being taken seriously and that they are empowered to bring about changes themselves. By combining the aforementioned transaction data that is stored in your customer engagement system and the information gathered in surveys, you will develop a deeper understanding of your customers' behavior. This plays a central role in customer engagement, which is why you should not do without this customer engagement measure.
8) Usability on all channels
The following applies to the purchasing process: the easier, the better. Your customers must be able to understand how your website/app works. Also, provide a sufficiently large selection of payment options. Complications and barriers to shopping lead to abandoned purchases and unpaid orders. Make the purchase process as easy as possible, conduct tests with focus groups, provide multiple language versions, and ensure that the content of your website/app is understandable for all customers. The worst thing you can do is let your customers feel stupid.
9) Provide your customers with relevant content
Provide your customers with the expertise that you have as an industry expert and become the point of contact for support and advice in case of problems. Use positive reviews on your products for this. You can also create a blog and post informative and interesting content on your subject. So not only sell your products/services, but also your knowledge.
10) Customer Care Systems
As your customer base grows, professional customer care becomes more difficult and time-consuming. For this reason, you should consider introducing a customer care system. This relieves your employees and ensures the provision of excellent customer service. A good system can manage your customer database, send automatic messages, suggest special offers, and trigger payment reminders. This enables customer engagement concepts to be implemented more professionally and efficiently, which in turn gives you more time to complete other tasks.