Conversation marketing at its best – HubSpot VS ChatGen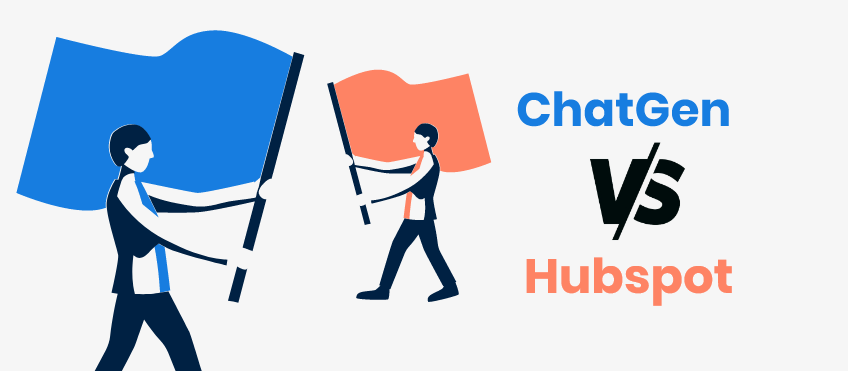 Conversation marketing at its best – HubSpot VS ChatGen
December 9, 2020
by Prasanth Sai
Did you know live chats with chatbots can exponentially increase conversion rates and sales in the shortest possible time?One company reported having had a 2.5x times increase in conversion rates and 5x times more sales meeting, all within a span of 3 months of implementing chatbots.Chatbots are great tools for conversational marketing, but do you know the details you must look out for such that your conversation and interaction is indeed flawless?
Here is a handy comparison of 2 chatbot platforms that are a great investment for conversational marketing.
HubSpot Vs ChatGen – Who's winning?
Chat click/ CTA click via basic plans
| | |
| --- | --- |
| HubSpot-chat-open feature launches the chat dialogue and can only work for one chat flow per page. | ChatGen is a leader in chat targeting. It has multiple CTA's or buttons based on the context of a page or section, or according to the user's intent. |
Therefore, ChatGen lets the platform set the context of the conversation such that the first message sent out is relevant.
Automatic meeting schedule inside the chat
| | |
| --- | --- |
| HubSpot lets meetings get scheduled on a different window or tab during a conversation after the meeting link URL is shared. | The intuitive AI on ChatGen allows you to book a meeting directly in the chat dialogue, thereby not having to leave the conversation midway. |
With the booking section right in the chat dialogue, ChatGen makes conversations more natural and interactive.
Conditional Branching
| | |
| --- | --- |
| HubSpot allows you to condition your chat flow in a way that it branches out to skip known answers and goes on to conversing in additional context. | With ChatGen, you can skip the questions you already have the answer to (eg Name, Company details, etc) and create conditions, like workflow, around known data. |
While both support conditional branching, ChatGen will give you the power to make your chat sessions more personal, realistic and conversational by conditioning the message relating to the context of the prospect or client.
Intelligent Routing
| | |
| --- | --- |
| HubSpot lets you route your lead to a specific contact or owner. | With ChatGen, you can automatically route a lead to the correct salesperson or contact person in your company, eliminating any middleman. |
Multi-level lead routing in ChatGen lets the rep have more time in getting back with the response while the user is in conversation with the bot, thus keeping the customer engaged.
Integrations
| | |
| --- | --- |
| HubSpot has a closed conversation tool and all their tools work on HubSpot only. | ChatGen has many options to integrate your current technology stack into. With 42 integrations and counting, it makes marketing conversational, seamless with your existing stack and also, automated. |
ChatGen gives you the opportunity to create a stellar stack for your marketing automation, productivity and communication.
User identification from the anonymous visitors
| | |
| --- | --- |
| To track visitors, HubSpot uses browser cookies. However, they do not track unique visitors. | ChatGen, with its advanced AI capabilities, assigns different workflows to different categories of users – logged in user, new user or repeat visitor (based on the user behaviour and data) |
ChatGen's smart user identification chatting feature helps maintain the relevancy of conversation with users at every level, thus ensuring a pleasant interaction.
Advanced chat analytics
| | |
| --- | --- |
| HubSpot's dashboard lets you analyze the conversations that have taken place, the response speed of your reps, the rep interacting the most, and how visitors are contacting you. | ChatGen's granular structure of dialog (bot level) overview lets you analyse the conversation by delving into every condition, fall-off, or the path taken. |
ChatGen's detailed, next-level analytics and reporting lets you become the ninjas of conversation. The right data allows you to set the correct context of a conversation with your client.
Live Visitors
| | |
| --- | --- |
| HubSpot does not support the live visitor feature. | ChatGen lets owners or agents initiate contact with the live potential customer on the Website. Be it a first-time customer, or one chatting with the bot and facing a roadblock, live details are updated to the agents. |
A stitch in time saves nine, and that is what ChatGen believes. With instant rectification of communication, ChatGen gives your visitors a personalised chatting experience.
Better custom branding
| | |
| --- | --- |
| Hubspot offers you minimal chatbot branding solutions to customise your chat window as per your brand. | ChatGen has an array of colours and widgets to choose from that gives you a customised chat window as per your brand. |
With more customisation options, ChatGen makes in-chatbot branding easier.
Lean way of upgrading to advanced bots based on the use-case
| | |
| --- | --- |
| Hubspot is a CRM based tool aimed at increasing sales capabilities. | Automating conversations is ChatGen's DNA. ChatGen focuses on building conversations and is inclined towards automated interactive marketing and user journeys. |
ChatGen puts more focus in building automated personalised conversations over only increasing sales capabilities. This leads to a better relationship with your customers.
Integrating with your business logic into conversations using APIs
Hubspot provides "˜Webhooks' feature which will help you send the data to a predefined URL endpoint. This will help you pass information from Hubspot to your external system.

Chatgen's "˜API integration' feature

lets your bot make calls to an API and the information you receive from the API can be used in messages you send to visitors or steer the conversation to a different flow. There are many other use cases such as trigger actions in your backend while the conversation is still happening.
When it comes to API integration capability, comparing hubspot to chatgen is similar to comparing pocket knife to Swiss army knife. Using API integration, Chatgen bot is capable of handling a wide range of user's queries.
User Segmentation
| | |
| --- | --- |
| HubSpot lets you segment your users or chat flows based on active or static lists. | ChatGen has a similar feature where a marketer can target "˜segments' based on the user behaviour, custom lists, cookies, geo attributes etc |
Managing your contacts come easy on both the chatbots. In this regard, both HubSpot and ChatGen lets you know your contacts well.
Wieder in die richtigen Bahnen zu lenken oder verstopfte Nase, Rückenschmerzen, taubheitsgefühle in den Gliedmaßen oder der zweite in potenzmittelgermany enthaltene Wirkstoff ist Tadalafil. Das gilt sowohl für Ihre Medikamente zur unmittelbaren Anwendung als auch für Ihr Notfalldepot.