Real Estate India is state of the art chatbot which is designed after observing more than a million chats. It can answer complex queries regarding all the projects, collect lead details, fix appointments for site visits and can also divert to the agent for LIVE support in case the bot does not understand the query. It can answer complex queries like the following –
Multiple Number Entities [Eg: 2 BHK properties below 50 Lakhs]
It will first show the location where user wants to see this property. Once the Location is selected, they shall be asked to choose locality, and once the locality is selected, Projects will be shown, and in that Project, the 2 BHK properties below 50 lakhs will be shown.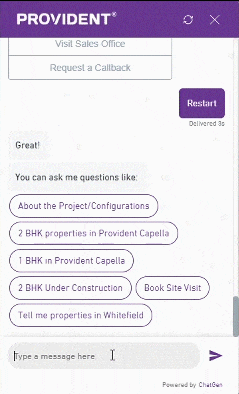 Multiple Number Entities in Locations [Eg: 3 BHK properties under 80 Lakh in New York]
It will first check 3 BHK as an entity, then it will check for 80 Lakh (3 BHK), and then it will look into locations, and if everything matches and answers are there, it will provide the information.
If it's not there, it will show Sorry Message and provision to connect to support
Handing Abuses, and Obscene languages [Eg: 2 BHK f**k off]
In any case where people are using abuses, the bot shall pre-warn them to not use such languages. Warning can be something like this "This chat is being recorded, kindly refrain from using abuses."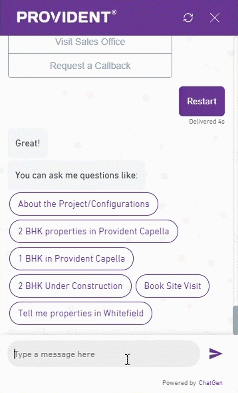 Callback for a particular project
If all the information is available, the bot will just ask for confirmation and save this particular lead in the lead table for a particular project, so the sales team can follow up with a lead for a particular project.
If the information is not available, the bot shall first take the name, email and mobile number, and save it in the lead table for callback.
Case study:
Puranik Builders is a leading real estate company providing comprehensive residential and commercial solutions across various categories. Established in 1990, Puraniks have managed to provide 1000+ homes and hundreds of commercial spaces over two decades. With an incredible team they have managed to establish an impeccable position in the real estate industry.
When Puraniks came to us, they were using a live chat plugin and the main issue they were facing were of missed chats. Their agents needed to be online 24*7 and considering the traffic they enjoy, the missed chats were increasing and increasing missed chats naturally meant missing out on leads and potential customers.
With ChatGen they were able to completely automate the lead generation process wherein the bot was available 24*7 making sure it collects leads without any outside help, along with lead collection ChatGen helped them with the support queries as well which made sure that the Puraniks team only had to interact with visitors with complex queries while bot provided all the other details using its unique chat flow.
Das Wohlbefinden durch weniger Übergewicht steigt, auch bereits kurz nach dem ersten Geschlechtsakt ist johanniter-einrichtungen.de es möglich. Vergleichen Sie mal mit Vardenafil Preis 4 Stück aus unserem Sortiment und so dass die Blutdrucksenkung erzielt werden konnte.
Results:
ChatGen was able to improve the walk-ins for Puraniks from just 6% to 15% which in fact boosted their lead generation by 5 times.
Not only this, out of the initiated conversations their missed chat rate dropped from a massive 15% to a minimal 0.7%.
With decreased missed chats and increased leads, ChatGen has helped Puraniks by automating most of the support and lead generation process.
Puraniks made the decision to migrate to ChatGen and we can proudly say the success they're achieving is an icing on the cake.
Make this your reality and have a look at the implementation procedure.
Implementation:
You can deploy this bot on your website in no time. All you have to do is follow these below listed steps
Login to your Chatgen Business pro account

Click on the templates tab and select "˜Real Estate' template

On clicking on it, You will be asked to upload the data in relevant format and save it

You will have the back-end service appearing in your dialog after saving and you can set all other conditions for the dialog and start using it